AAA weekly
2020-06-29
Copyright FOURIN, Inc. 2023
India's Motorcycle Production Drops in 2019 Due to Economic Downturn, Tightened Emission Regulations
India's motorcycle* industry declined in 2019 after years of steady growth. Motorcycle production dropped 12.1% year-on-year to 22.06 million units, going down for the first time in 12 years. Meanwhile domestic sales fell 14.2% to 18.57 million units, decreasing for the first time in 11 years. The causes of the declines are India's economic slowdown starting from the second half of 2018 and compliance with stricter environmental and safety regulations which drive up prices. On the other hand, CBU exports went up 6% to 3.45 million units, reaching record high level for the third consecutive year.
In 2020, production and sales are expected to shrink due to the outbreak of new coronavirus. Monthly sales fell below the same month of the previous year for 16 consecutive months from December 2018 to March 2020. In addition to prolonged decline in motorcycle demand, the introduction of stricter emission regulations in April 2020 coupled with the outbreak of the new coronavirus will likely result in decline in production and sales for the second consecutive year.
*"Motorcycle" is used as a general term for all types throughout this report, namely scooters, full motorcycles and mopeds. The term "full motorcycle" refers to motorcycles other than scooters and mopeds.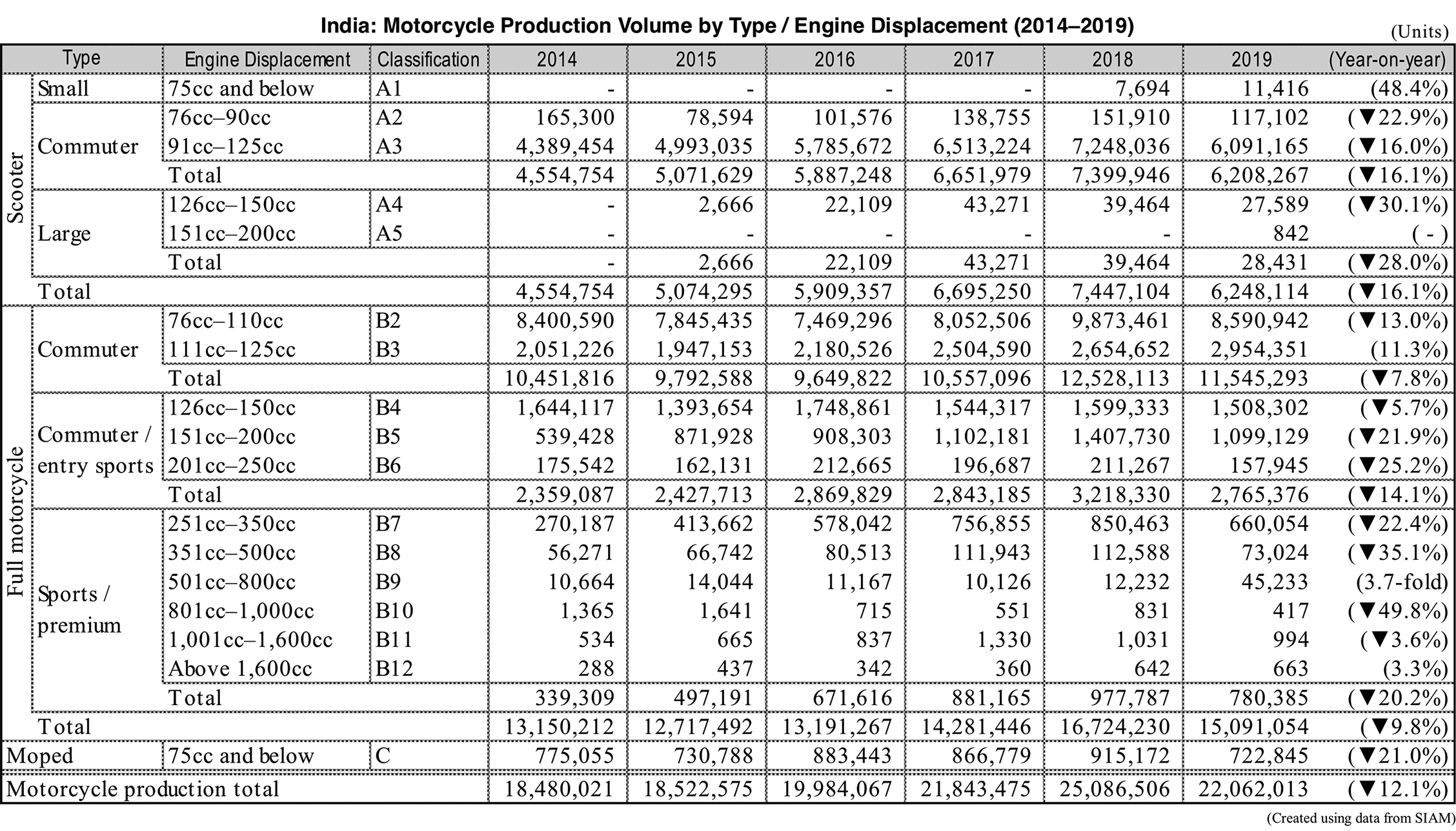 Motorcycle sales drop double digits for the first time in 27 years
India's motorcycle sales fell 14.2% to 18.57 million units in 2019. Sales dropped for the first time since 2008, declining double digits for the first time since 1992. Demand shrank due to India's weakening economic growth that began in the second half of 2018 and the rise in vehicle prices resulting from the compliance with stricter environmental and safety regulations.
Looking at sales data by vehicle type, scooters fell 16% to 5.84 million units, full motorcycles declined 12.9% to 12.01 million units and mopeds dropped 19.6% to 714,000 units, all three types decreasing double digits. The share of scooters in the entire motorcycle market decreased 0.6pp to 31.5%, declining for the second consecutive year after reaching a record high level of 33.4% in 2017.
Suzuki becomes third largest scooter manufacturer
In terms of sales, all motorcycle makers fell compared to the previous year except Suzuki and Kawasaki. India's top two motorcycle makers declined double digits. Hero MotoCorp fell 14.7% to 6.67 million units and Honda (HMSI) decreased 18.4% to 4.8 million units. The core segments of both companies saw a drop in sales. Hero MotoCorp's 76cc–110cc-class full motorcycles dropped 19% to 4.99 million units and Honda's 91cc–125cc-class scooters decreased 18.4% to 3.18 million units. The market share of both manufacturers slightly shrank in 2019. Hero MotoCorp dropped 0.2pp to 35.9% and Honda decreased 1.3pp to 25.9%.
Suzuki's sales were outstanding, despite the year-on-year decline of all other major manufacturers. While the overall demand contracted, Suzuki increased sales 14% to 716,000 units. Strong sales were driven by the 125cc scooter Access 125. As a result, Suzuki surpassed Hero MotoCorp in the scooter segment, taking third place. In the overall motorcycle market, Suzuki took fifth position by overtaking Royal Enfield and Yamaha.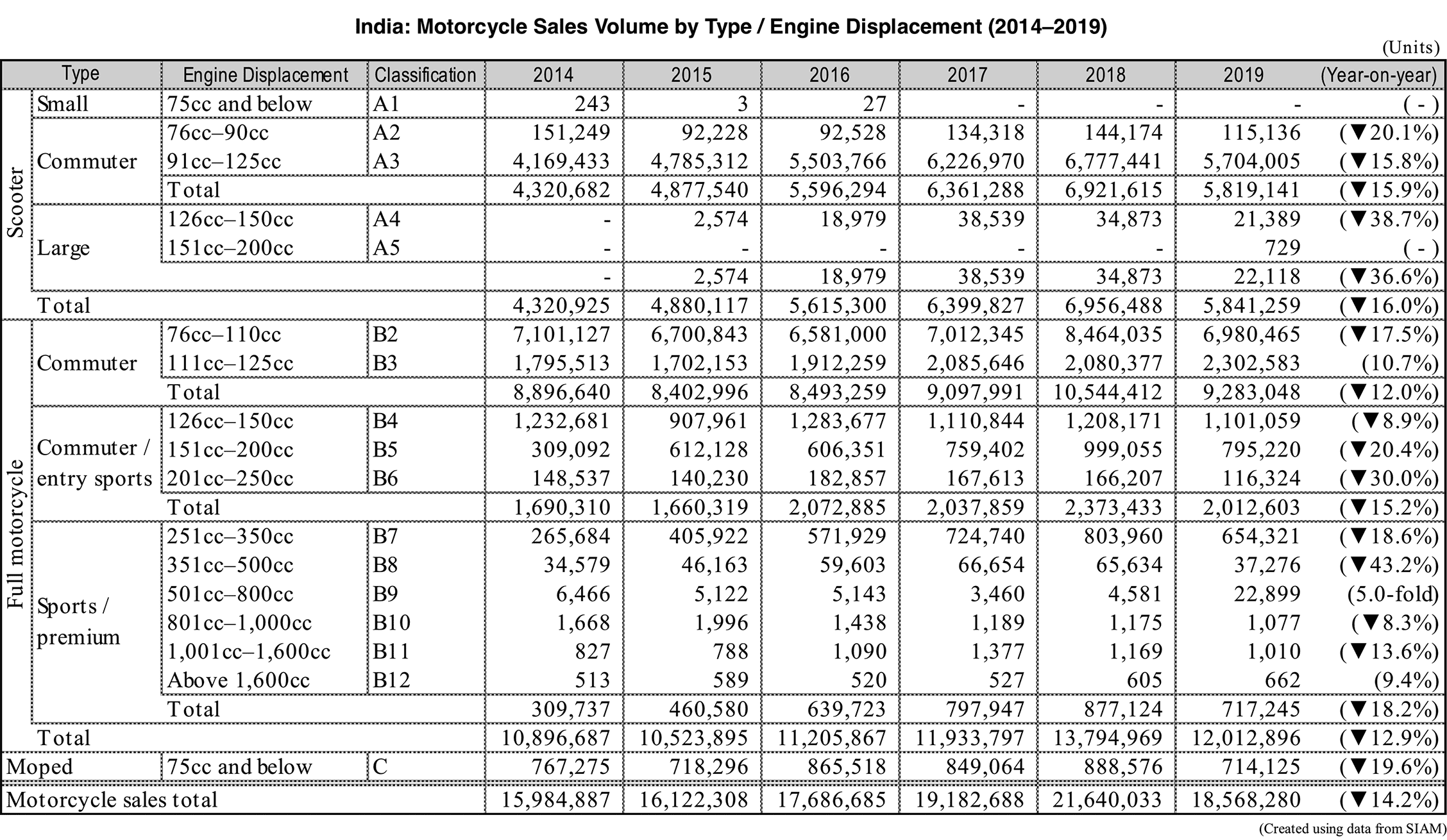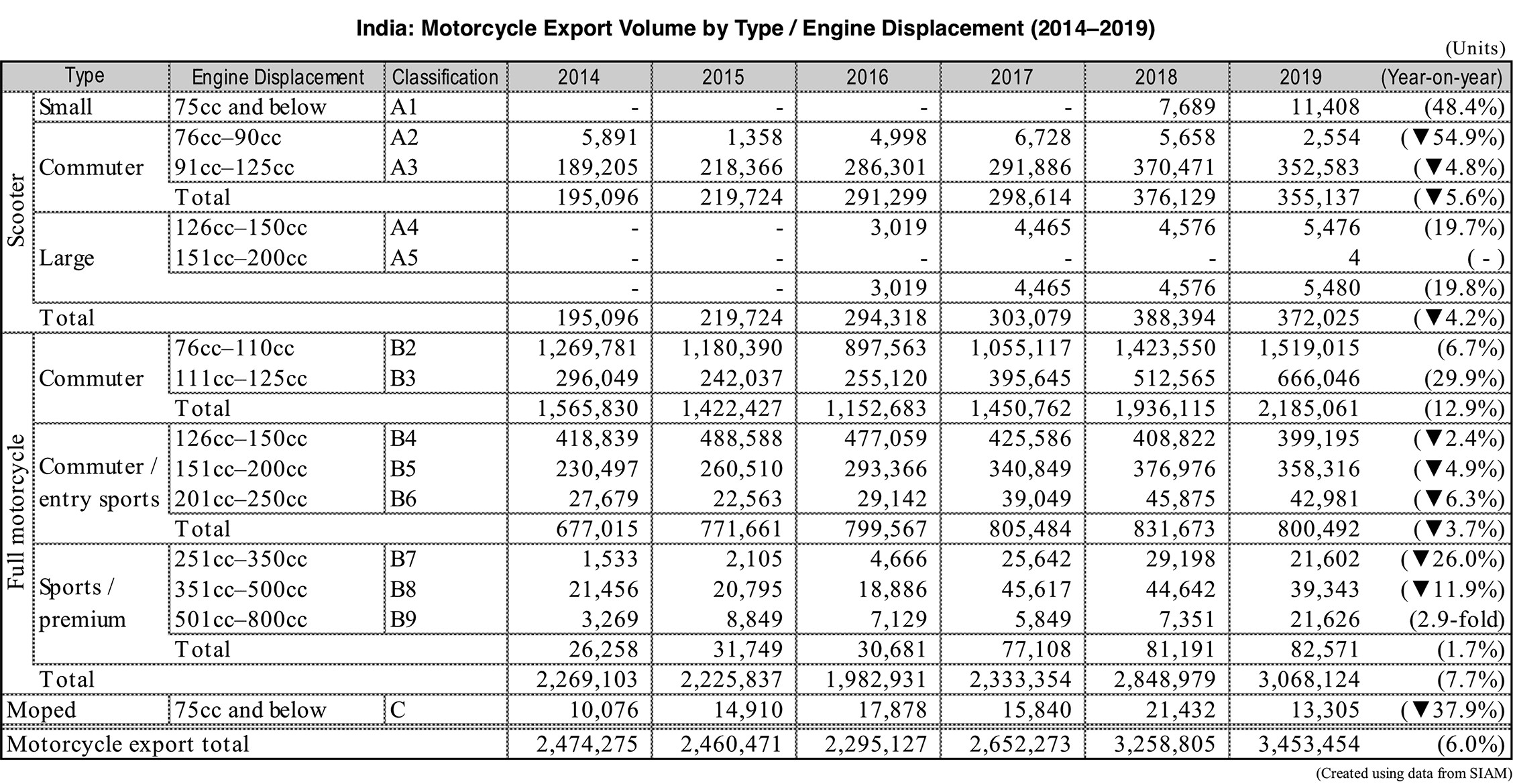 Introduction of BS6 in 2020 and CAFE in 2022
While the entire country was under lockdown from the end of March 2020, India launched Bharat Stage 6 (BS6) emission standards on April 1, 2020. In order to comply with BS6, the conventional carburetor-type engine system must be replaced with a fuel injection-type system. But the switch comes with a higher price tag. Taking the Honda Activa 110, top model of the Indian scooter market, as an example, the carburetor type sold for around 55,000 INR. However, the new version with a fuel injection system, launched in January 2020, is sold for 64,000 INR.
Following the tightening of emission regulations, India plans to introduce corporate average fuel economy (CAFE) standards for motorcycles in the future. Although it has not been officially announced as of the beginning of 2020, regulations are being formulated by relevant ministries and agencies. The study plan assumes that after introducing the first phase in 2022, the standard value will be raised in 2027 to move to the second phase.
Electric motorcycle sales reach 150,000 units
According to the Society of Manufacturers of Electric Vehicles (SMEV), the number of electric motorcycles sold in India in FY 2019-20 increased 20.6% to 152,000 units. Ninety percent of the vehicles sold are low-speed types with a maximum speed of 25 km/h or less. Sales of high-speed models comparable to conventional motorcycles are still in their infancy.