AAA weekly
2020-08-03
Copyright FOURIN, Inc. 2023
The Philippines' Automobile Market by Segment in 2019: Sales Increase 3.7% to 417,000 Units
The Philippines' automobile sales volume increased 3.7% year-on-year in 2019 to 417,000 units. The top 10 brands accounted for 392,000 units, making up 94.1% of the market. B-segment passenger cars, small SUVs and one-ton pickup trucks increased double digits while A-segment passenger cars and medium / large SUVs declined.
Passenger cars went up 1.6% to 121,000 units. Of which the Philippines' top-selling B segment increased 13.0% to 93,000 units, going up for the second consecutive year. The best-selling model Toyota Vios went up 28.9% to 33,000 units. The Mitsubishi Mirage and Mirage, ranked second and third in 2019, dropped 3.4% to 20,000 units. Hyundai launched Reina and Kia released Soluto at the beginning of 2019 which also contributed to the increase in sales in the B segment.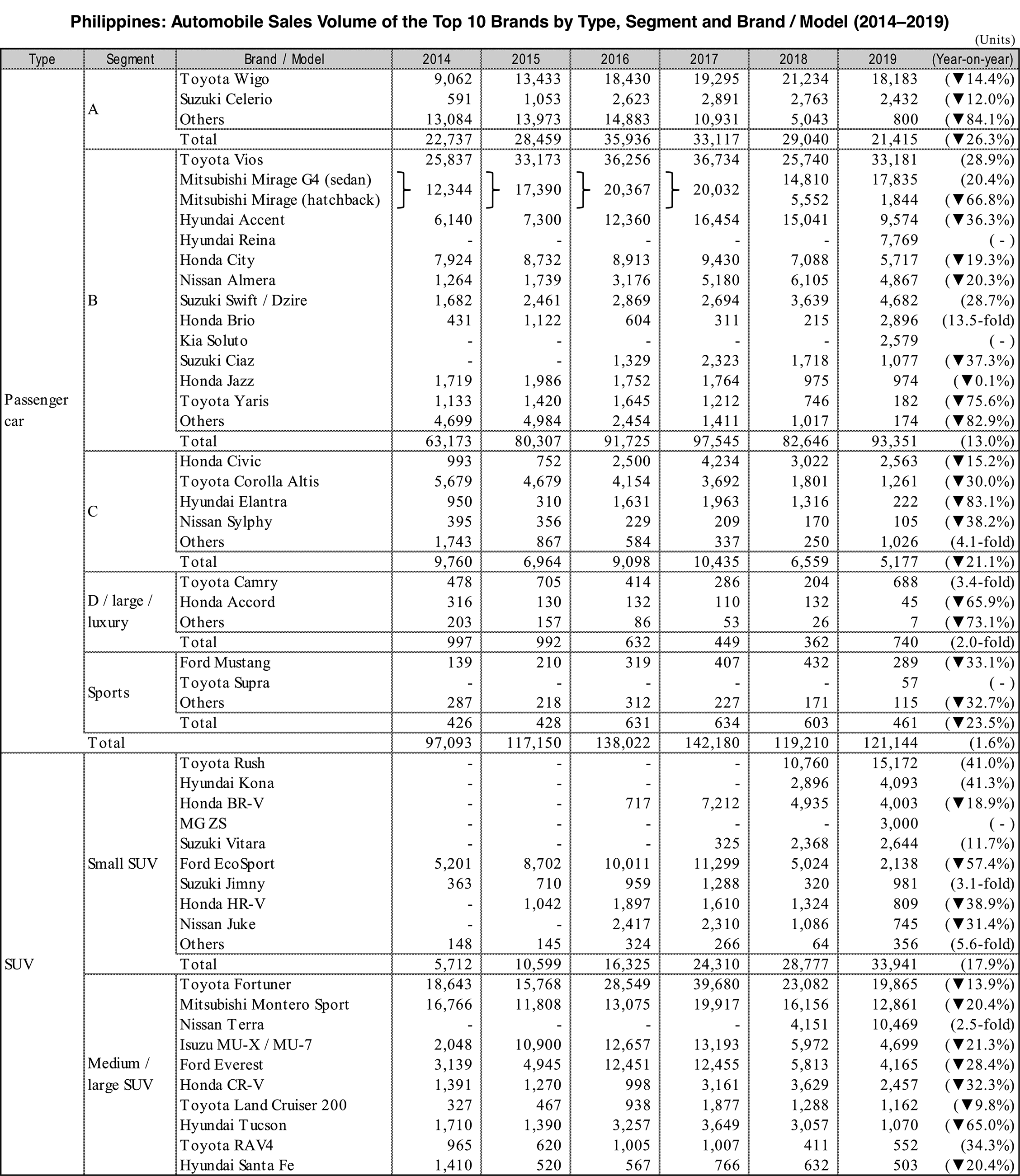 SUVs slightly dropped compared to the previous year, going down 0.9% to 95,000 units. Small SUVs increased 17.9% to 34,000 units, going up for the sixth consecutive year. The segment-leader Toyota Rush and second-placed Hyundai Kona ascended over 40%, giving a boost to the entire segment. The MG ZS, launched in 2019, added an estimated 3,000 units to the total. Meanwhile the Honda BR-V and Ford EcoSport declined double digits. Medium / large SUVs went down 9.0% to 61,000 units. Starting with the segment-leader Toyota Fortuner, most models fell double digits. One of the exceptions is the Nissan Terra, ranked third in 2019, which added over 10,000 units to the total.
MPVs increased 5.8% to 63,000 units. In the small MPV segment the Mitsubishi Xpander went up 41.4%, while in the medium / large MPV segment the Toyota Innova increased 14.4%. One-ton pickup trucks rose 22.1% to 67,000 units, going up for the eighth consecutive year. The segment has grown into a volume-selling segment, surpassing medium / large SUVs and medium / large MPVs.