AAA weekly
2020-04-27
Copyright FOURIN, Inc. 2022
Audi Sales in Japan Drop for the Fifth Consecutive Year in 2019
Audi's sales dropped 8.5% year-on-year in 2019 to 24,000 units in Japan. After peaking in 2014, sales dropped for the fifth consecutive year in Japan despite lowering the annual target, announced in the beginning of the year, from 28,000 units to 26,000 units in July 2019. The decline is attributed to supply shortage of volume-selling models such as the A3, Q2, A1 and Q3. Looking at the sales volume on a monthly basis, it has begun to increase from October 2019 and it appears that the supply delay of some models has been resolved. Audi plans to release over 10 new models and strengthen its supply network in 2020.
It is interesting to see that while overall sales dropped in 2019, the sales of diesel and mild-hybrid models increased. Audi's first clean diesel model the Q5 increased 26% to 2,983 units.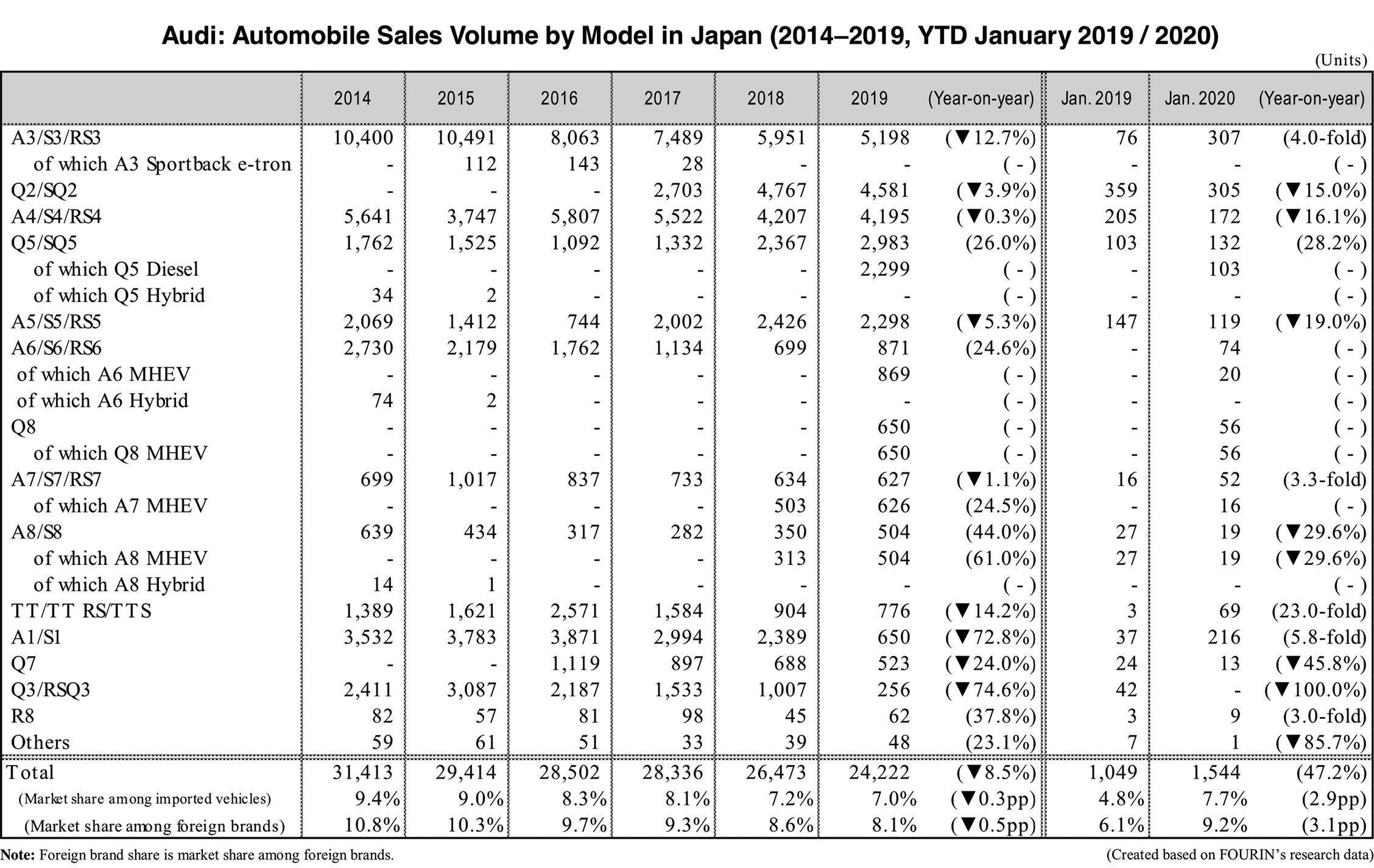 The sales ratio of diesel Q5s was 77.1%, which is higher than the initial forecast of 60–70%. The entry price of the diesel version is set 560,000 Japanese yen below that of the gasoline version which could be a reason for strong sales. In addition, the A6, whose lineup was enriched with a 48V MHEV version as well, went up 24.6% to 871 units. In addition, other models with an MHEV version in their lineup, the A8 increased 44.0% to 504 units and the Q8 sold a total of 650 units, surpassing its initial target of 500 units.
In 2020, Audi aims to exceed the previous year's result for the first time in 6 years by expanding SUV and diesel vehicle sales. In addition to launching the new Q3 compact SUV by the end of the year, diesel versions are planned to be added to A6 and Q8.