AAA weekly
2020-01-13
Copyright FOURIN, Inc. 2022
Digitalization, AD, ADAS, Communication Trends in the Japanese Automotive Industry
Japanese OEMs need to figure out where to put development resources as the global market is expected to stagnate due to the slowdown of the Chinese market. In the 2020s, digitization centered on software development that is directly linked to product competitiveness will be the focus of next-generation product development along with sustainability.
Toyota is strengthening software development and digitization through TRI-AD, which went into full operation in December 2019. In the United States, TRI is collaborating with startups and research institutes to advance development in the AI field in an effort to improve competitiveness. Honda is pursuing digitalization through innovations by taking advantage of cross-industry collaboration. Meanwhile, Nissan is leveraging synergies with its alliance partners Renault and Mitsubishi. In the connected field, a number of Japanese OEMs cooperate with Toyota to improve the automaker's on-board communication device DCM. The cooperation involves the accumulation of information for big data, which is the key to connected services, building an ecosystem in the CASE domain and expanding revenue sources. Toyota is adopting SmartDeviceLink (SDL), an open source digital platform created by a consortium co-founded with Ford, is currently introduced to new and updated Toyota models. SDL can use car navigation systems as in-car applications. SDL has been also adopted by Toyota's subsidiary Daihatsu as well as by Suzuki which has been deepening ties with Toyota in the CASE domain. Looking at cloud platforms, some automakers have adopted Microsoft's Azure, setting industry standards in the automotive industry.
Regarding autonomous driving (AD), collaborative activities that transcend the boundaries of manufacturers have begun to stand out in the United States and Europe. However, Toyota continues to take the initiative promoting technology development through TRI in the United States. From 2020, public road testing of experimental vehicles equipped with technology equivalent to SAE Level 4 will be launched by Toyota. Meanwhile, the company plans to expand its AD services through external cooperation. Honda will also proceed with its own development and launch L3-equivalent technology in 2020. Nissan is partnering with Google's Waymo with an aim to realize an unmanned driving dispatch service by 2022.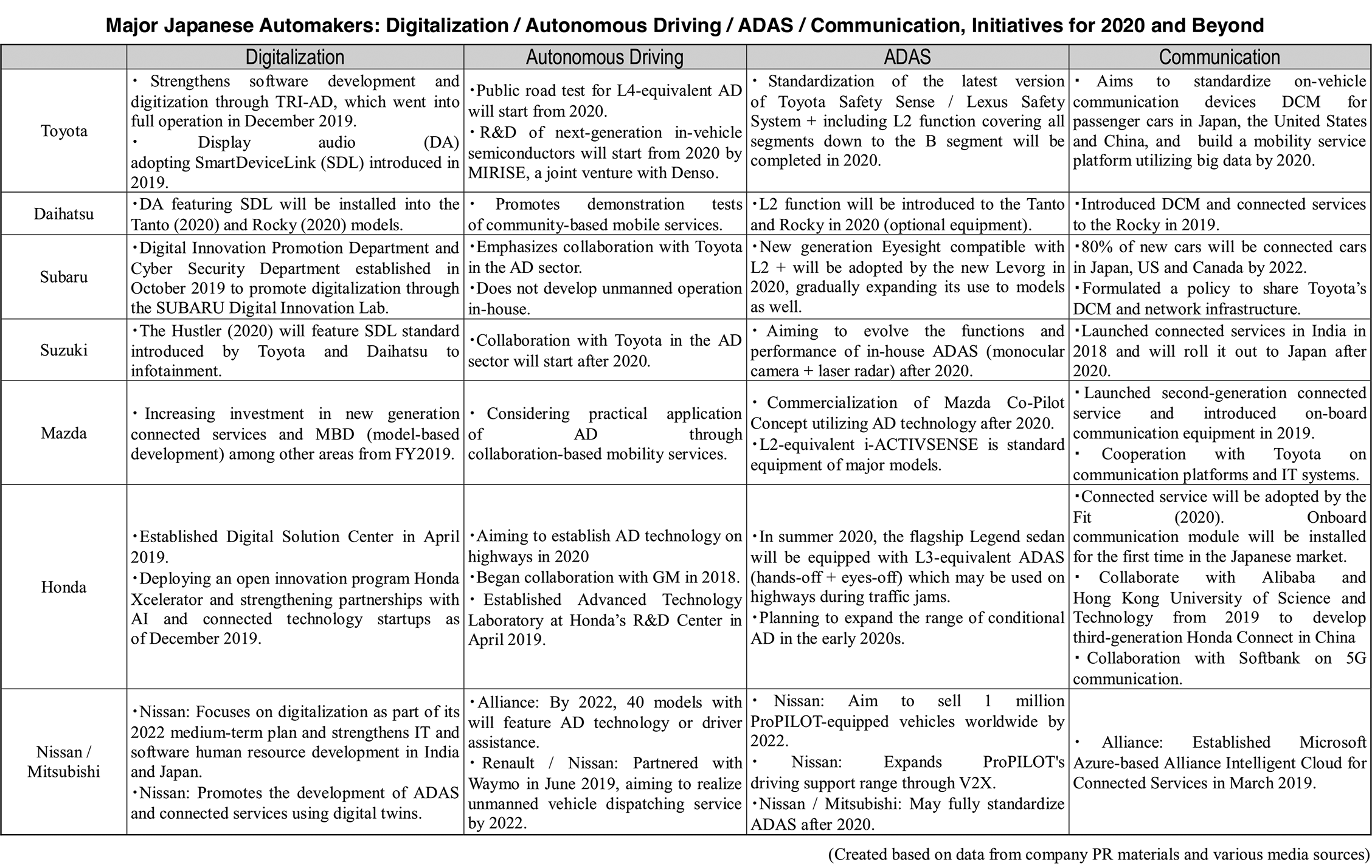 Major Japanese Automakers: Digitalization / Autonomous Driving / ADAS / Communication
Toyota Motor
Digitalization strategy
・Toyota is promoting software development and product digitization, centered on TRI-AD (Toyota Research Institute Advanced Development, approximately 300 billion yen in development investment, 430 employees as of October 2010), which began full-scale operation in December 2019. – Toyota has traditionally been ahead in the AI field, but has been somewhat reluctant to go digital in response to global customer needs. – With the full-scale operation of TRI-AD, the results of TRI (Toyota Research Institute)'s advanced development will be linked to Toyota's product strategy. – DENSO affiliates have been mainly responsible for software development. – The Future Creation Center was established following a large-scale reorganization (transition to Toyota's company system) after 2016. However, the company is mainly pursuing digitization, particularly in the service area, within the scope of its focus on connected technology. – The company has been promoting partnerships with Japanese companies and overseas startups, including the telecommunications industry such as SoftBank due to a sense of crisis regarding the entry and containment of non-automakers such as Apple, Google and Amazon in the automotive industry. – In conjunction with the shift to Toyota's company system, the integration of related bases into the head office has also been promoted. This undertaking is intended to accelerate decision making and enhance product competitiveness. – In July 2018, Toyota's IT development centers in Japan and the US, which are responsible for advanced and applied research in the fields of communications and information processing, were each merged with the head office's connected company in Japan and TMNA in the US. – The company aims to build an ecosystem centered on Toyota as an automaker while utilizing innovation departments such as TRI for AI technology development and Calty Design Research, both located in the US. – However, it seems that the policy is shifting toward outsourcing CASE business and its separation from the head office from 2019.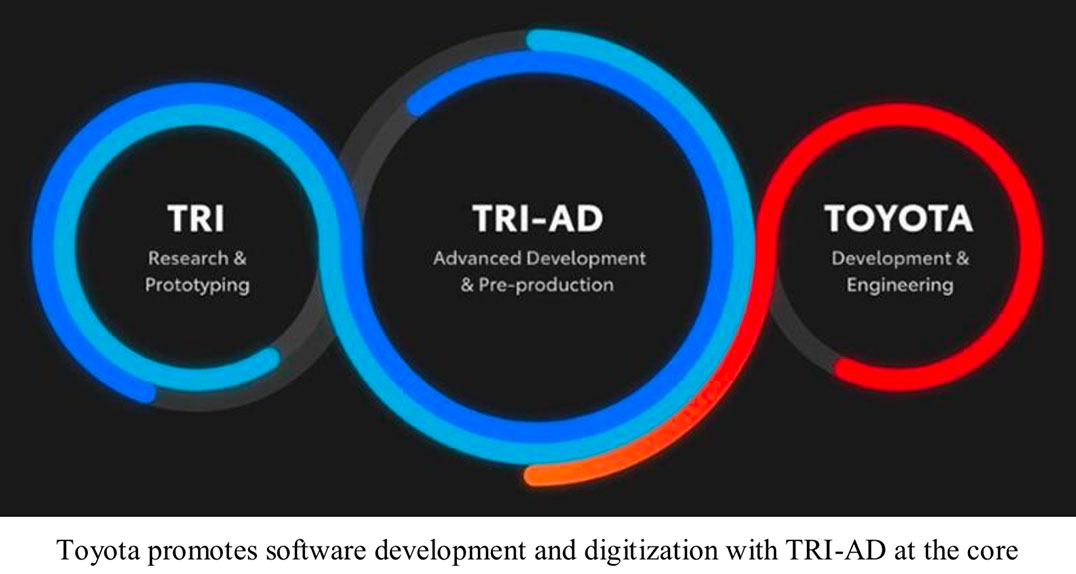 ・Toyota has adopted Microsoft's Azure for its group cloud platform and is using it in multiple areas. ・Toyota has partnered with NVIDIA regarding AI chipsets (SoC = System-on-a-Chip). ・Denso, which is responsible for Toyota's software infrastructure technology, will increase the number of software developers from the current 9,000 to 25,000 by 2025 for all areas of C.A.S.E. ・In addition, Toyota established the Digital Transformation & Mobility unit in North America in April 2018. – Zack Hicks, President and CEO of Toyota Connected North America (TCNA), is appointed as CDO (Chief Digital Officer). – It consists of three groups: information services, connected technologies, and next-generation mobility technologies, and focuses on shared mobility, connectivity services and OTA service updates.
Connected strategy
・In connection to digitization, Toyota will build a mobility service platform (MSPF) utilizing big data in the CASE domain. – To build a MSPF, on-board communication equipment data communication module (DCM), which is essential for connected cars, will be standard equipment on passenger cars sold in Japan, the United States and China by 2020. – The information obtained from DCM will be used as big data in all areas of CASE. – First of all, the 2020 Tokyo Olympics and Paralympics are considered milestones. – BEV mobility such as e-Palette is likely to be mass-produced for corporate use. – The actual business in the connected field will be handled by the Japanese headquarters of Toyota Connected, which is a joint venture with Microsoft other companies and Toyota's overseas subsidiaries.
---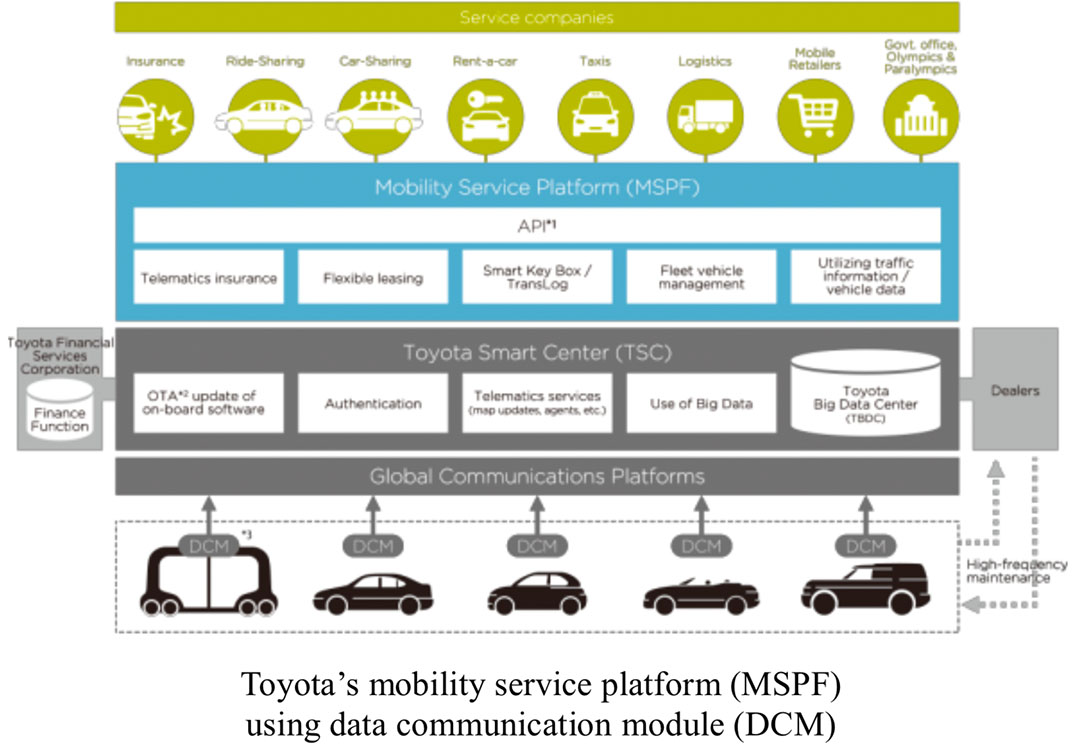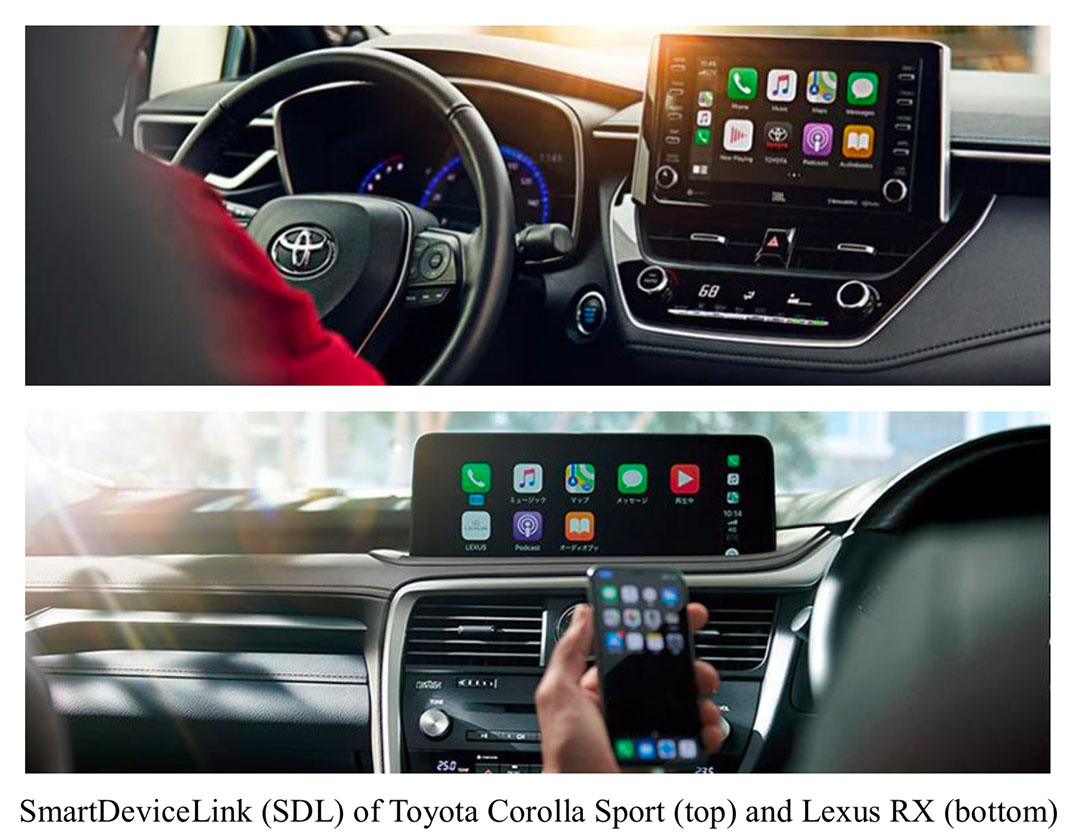 ---
・In terms of products, since the launch of the Corolla in September 2019, the company has begun to equip standard display audio (DA) or equivalent functions in all Toyota and Lexus models. – Toyota introduced SmartDeviceLink (SDL, developed by Ford's software company Livio), an open source standard from a consortium co-founded in 2017 with Ford. It links up the display with smartphones. – SDL supports the free use of LINE car navigation system (only in Japan). Apple CarPlay and Android Auto are now available in the Japanese, US and European markets (paid subscription system with full-seg TV). – Regarding Apple CarPlay and Android Auto, they are compatible with a number Honda, Mitsubishi and Suzuki models since 2016 in Japan. SmartDeviceLink (SDL) of Toyota Corolla Sport (top) and Lexus RX (bottom) ・Regarding digitization in terms of production, Toyota has collaborated with Hitachi on IoT demonstration tests since October 2017. Toyota is building a high-efficiency production system utilizing the IoT platform. ・In 2017, Toyota joined the Enterprise Ethereum Alliance (EEA), a member-driven standards organization whose charter is to develop open, blockchain specifications. It is used for procurement and AD development.
AD / ADAS strategy and overview
・Toyota will start a public road test of AD technology equivalent to SAE Level 4 (L4) from 2020. ・Toyota's AD technology design philosophy is based on two ideas: 1 Guardian and 2 Chauffeur. – Guardian is a harmonious self-driving technology where machines cover human mistakes and weaknesses. The main actor is always the driver. It can also be used for L4 / L5 Chauffeur-type AD systems, and is also expected to be offered to mobility services and non-group clients. – Chauffeur is a machine that replaces human drivers, which is equivalent to L4 / 5 AD. ・The next generation BEV concept Lexus LF-30 Electrified, which was unveiled at the Tokyo Motor Show 2019 and is equipped with AD technology anticipated to be released in 2030, is based on the Lexus Teammate concept. It features state-of-the-art driving assistance functions with Chauffeur and Guardian modes. – In addition to fine-tuned vehicle behavior control and automatic parking functions, it will be equipped with AD pick-up function which drives the vehicle from the parking lot to the entrance of the owner's home. – Steer-by-wire is used in the cockpit of the new concept. During AD, the steering wheel is moved forward to expand the space inside the vehicle.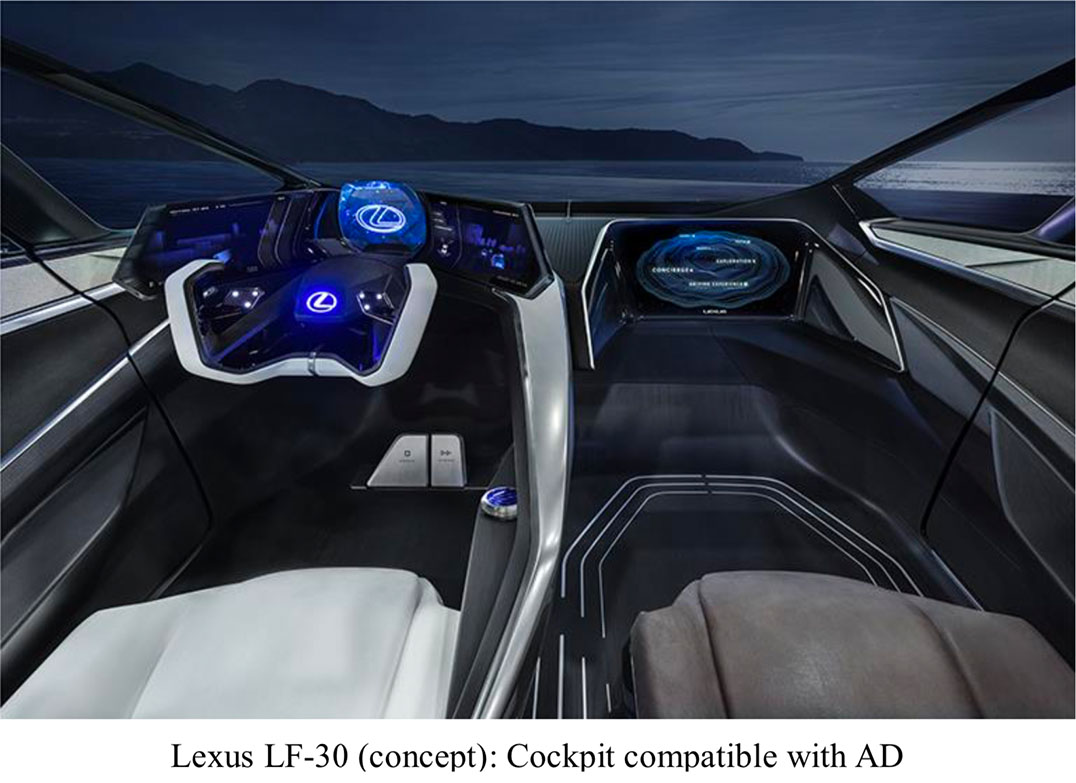 AD technology development partners
・As with other development areas, Toyota's AD and ADAS development is based on in-house production (including joint development with affiliated companies such as group companies and DENSO). Advance development is performed by the TRI in the US. – At the same time, Toyota actively promotes horizontal collaboration with US startups and research institutes such as MIT which is the home university of TRI CEO and Toyota Executive Fellow Dr. Gill A. Pratt. ・TRI, based in Silicon Valley, USA, is in charge of advanced development, including AI, in the AD and ADAS fields. In addition, TRI-AD in Tokyo, Japan will develop software. ・TRI is promoting open source platforms in the field of AD and robotics. – In June 2018, Toyota granted 100,000 US dollars to the Computer Vision Center (CVC) of the Autonomous University of Barcelona, Spain, to promote the development of CARLA, an open source AD simulator. ・TRI-AD (Established in March 2018. Apart from Toyota, Denso and Aisin Seiki each has a 5% stake in the company. CEO James Kuffner, formerly member of Google's software engineering team.) promotes advanced development of Toyota's AD and ADAS software and digitization of the group. – With an aim to develop the world's safest self-driving car, Toyota is strengthening the collaboration between TRI and Toyota Group. – In addition to AD software development, data handling (data aggregation and visualization) technology has been also enhanced. – In December 2019, the new office in Tokyo, Japan, which had been relocated in July of the same year, began full-scale operations. ・Toyota plans to continue investing in AD after 2019. In May 2019, TRI's venture capital fund Toyota AI Ventures (TAIV) established a second 100 million-US-dollar fund. – The company invested in areas other than the automotive field, such as Sea Machines, an autopilot and navigation system for the marine industry. ・In February 2019, TRI-AD launched a demonstration experiment using a vehicle-mounted camera for next-generation of high-precision maps in collaboration with America's CARMERA. – The concept is to use the open software platform Automated Mapping Platform (AMP) to share data on self-driving vehicles obtained from participating companies, create high-precision maps, and share them. – In April 2019, TRI-AD announced that it will collaborate with Maxar, a global space technology company based in Colorado, USA, and NTT Data to conduct demonstration tests of automatic generation of high-accuracy maps for AD vehicles using high-resolution satellite images. – High-accuracy map data can be generated by utilizing telematics data for AMP which will enable AD on any road.
---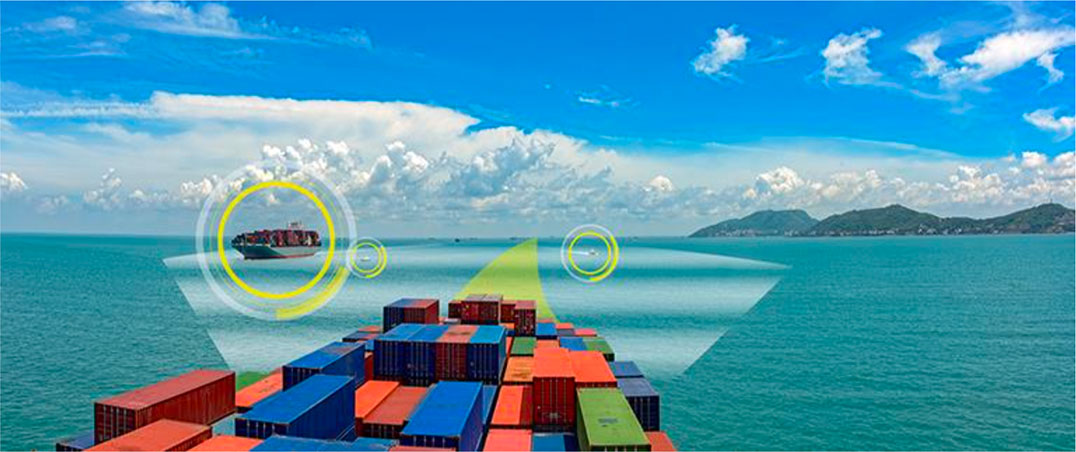 ---
・For research and advanced development of next-generation automotive semiconductors, a joint venture, called Mirise Technologies (Investment ratio: Denso 51%, Toyota 49%) set up by Denso and Toyota, will be launched in April 2020. – Mirise will work on 1 power electronics, 2 sensing, and 3 SoC (System-on-a-Chip) technology development. – 1 In-house and commissioned production of power control units (PCU). 2 Development of sensing technology in cooperation with in-house entities. 3 Clarification of SoC specifications that are optimal for future mobility. – Toyota and Denso's combined team of about 500 engineers will carry out the project two years at seven locations around the world.
Latest / Top ADAS models
・Lexus RX (2020) etc.: Toyota enhanced the functions of the preventive safety package Lexus Safety System +. The improved performance of the monocular camera and millimeter-wave radar has made it possible to detect daytime cyclists and nighttime pedestrians. ・The only model of all Toyota brands equipped with a Lexus Safety System + A, using a stereo camera (jointly developed by Denso and Ricoh) and millimeter-wave radar. – It is equipped with pre-crash safety (pedestrian alert / active steering avoidance support), as well as LCC, LTA and LCA with speed tracking function that also provides steering support. It also features so-called L2 + ADAS that supports speed control on curves and is linked with navigation data. ・Toyota Yaris: Despite being a B-segment compact car, the latest version of Toyota Safety Sense has been adopted as standard equipment other than the base grade. – It can also detect daytime cyclists and nighttime pedestrians. – It is the Toyota-brand model which can detect oncoming vehicles when turning right at intersections and crossing pedestrians after turning right and left.

・Toyota added low-speed acceleration suppression function to support low-speed accident prevention. – It recognizes pedestrians, cyclists, and vehicles in front of the vehicle using millimeter-wave radar and a monocular camera. – If the accelerator pedal is pressed more than necessary when the vehicle is stopped or slowing down while there is an object ahead, acceleration is restrained by suppressing engine output or applying weak braking. It supports collision avoidance or damage reduction. ・In addition, Toyota also launched its first advanced parking support system, Toyota Teammate Advanced Park. – It monitors the surrounding area with cameras and ultrasonic sonar.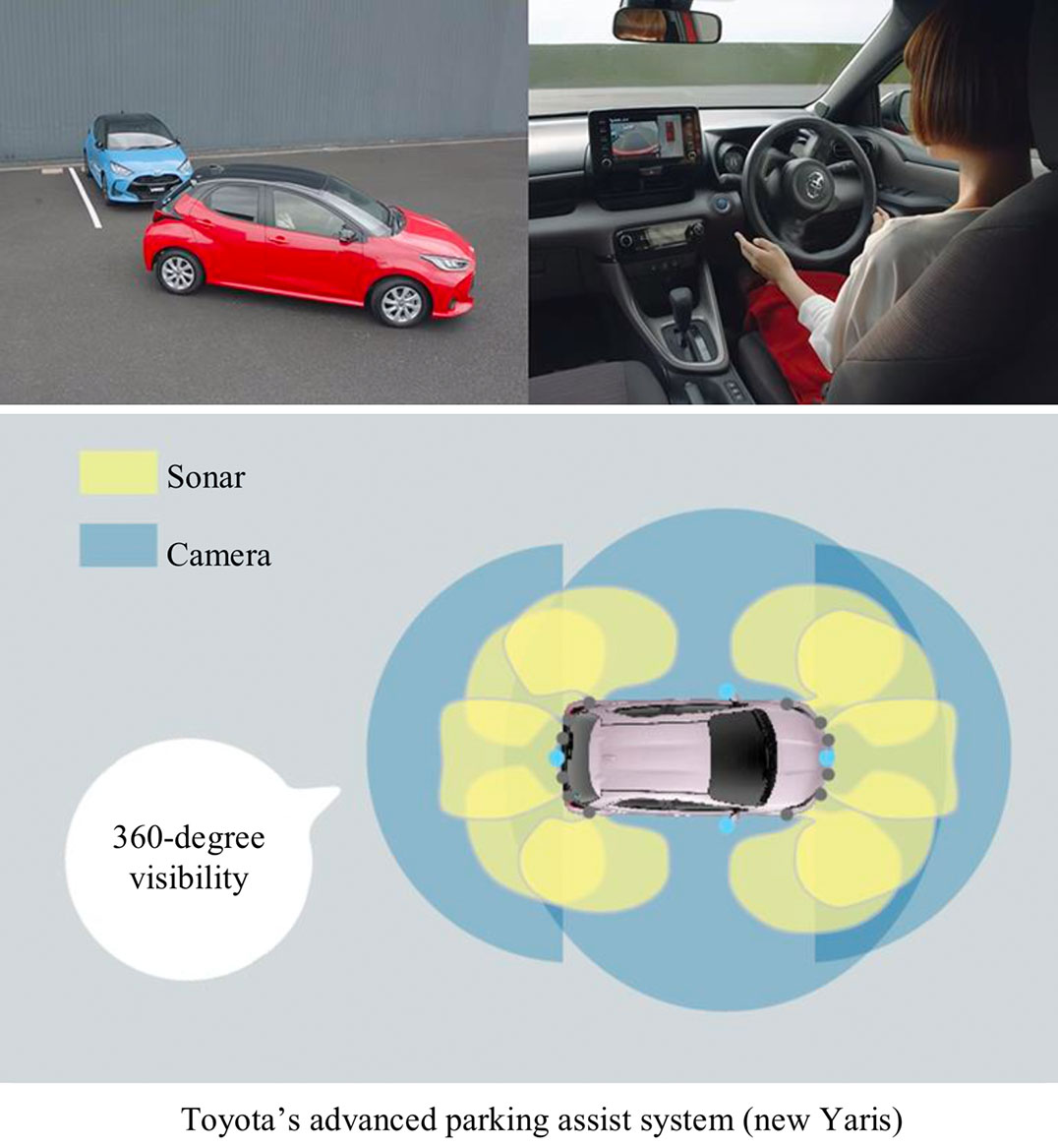 ・Toyota LQ (concept): The model was presented at the 2019 Tokyo Motor Show as a concept car reflecting TRI's AI / autonomous driving / robotics R & D (an advanced version of the TOYOTA Concept-i presented at CES 2017). – It shows the direction of Toyota's self-driving car development. The aim was to provide a mobile experience tailored to each user's preferences and conditions. – The AI agent estimates the occupants' condition. It has conversations with the occupants and encourages them to relax and drive safely using HMI through the five senses. – The model is equipped with L4 AD function. It is equipped with an unmanned automatic valet parking system jointly developed with Panasonic. – It uses two-dimensional road maps in addition to multiple cameras, sonar and millimeter-wave radar mounted on the vehicle. – The system that identifies the position of the vehicle, the camera installed in the parking lot and the control center that instructs automatic valet parking work together to enable unmanned entry and exit to and from the parking lot. – Vehicle sensors and parking lot cameras constantly monitor the entry of other vehicles and pedestrians into the AD path. If another vehicle or pedestrian is detected, the vehicle stops automatically. – The Augmented Reality Head's Up Display (AR-HUD), also developed jointly with Panasonic, and the world's first seat with alertness and relaxation functions, jointly developed with Toyota Boshoku, are also installed.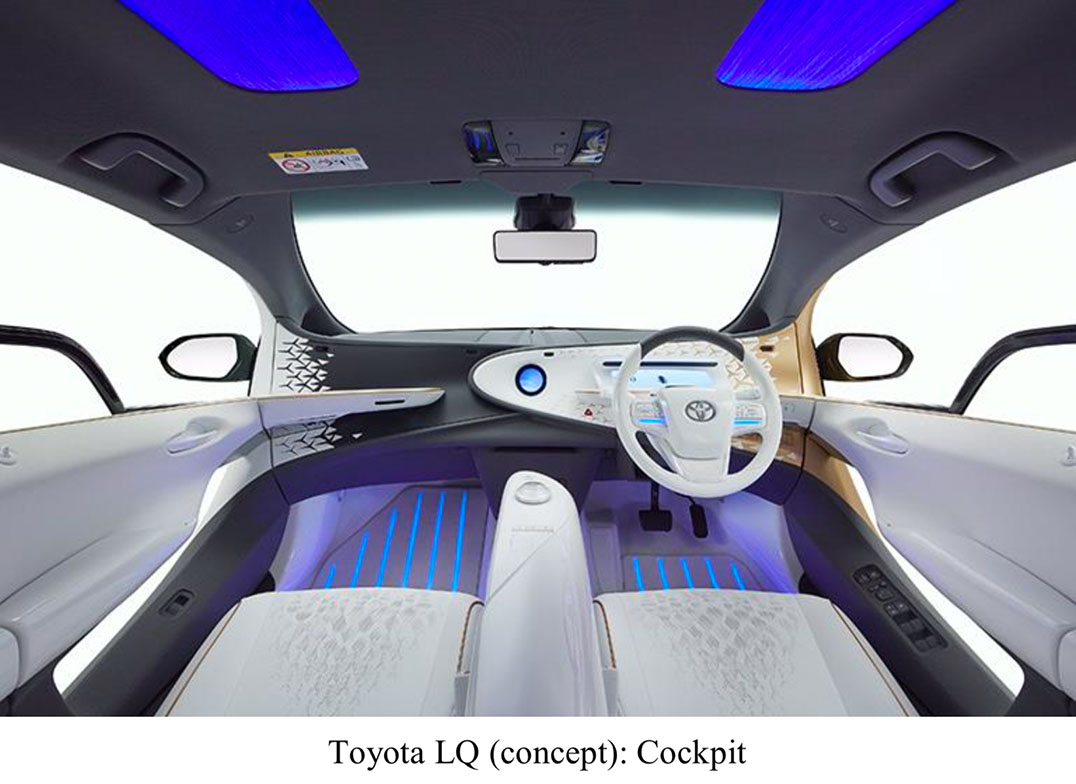 L4 / L5 AD development trends (MaaS, valet parking)
・From January 2019, the new P4 experimental vehicle based on the Lexus LS 500h (5th generation), which was unveiled at CES 2019, is used for AD development. – Two cameras were added to the P4 test vehicle. The recognition performance on both sides has been improved, and two image sensors specifically designed for AD cars have been added to the front and rear. – The radar system has been optimized to improve the view of the immediate surroundings around the vehicle. – The LiDAR system with eight scanning heads follows the one used of the previous model Platform 3.0, but has a shape that matches the design of the new LS. – CALTY Design Research is in charge of the P4's external design. ・In the summer of 2020, Toyota will offer test drives of an L4 AD test vehicle to ordinary people (announced in October 2019). – Initiated by TRI, using the TRI-P4 test vehicle. – The test ride period is from July to September 2020. The location is in Daiba, Tokyo. – A driver will also be on board in case of emergency. – It is intended to appeal to consumers about Toyota's AD technology on roads in Tokyo which has a complex traffic environment. ・Based on demonstration tests in Japan and other countries, Toyota plans to commercialize AD technology on highwayss around 2020, and introduce AD technology on general roads in the early 2020s.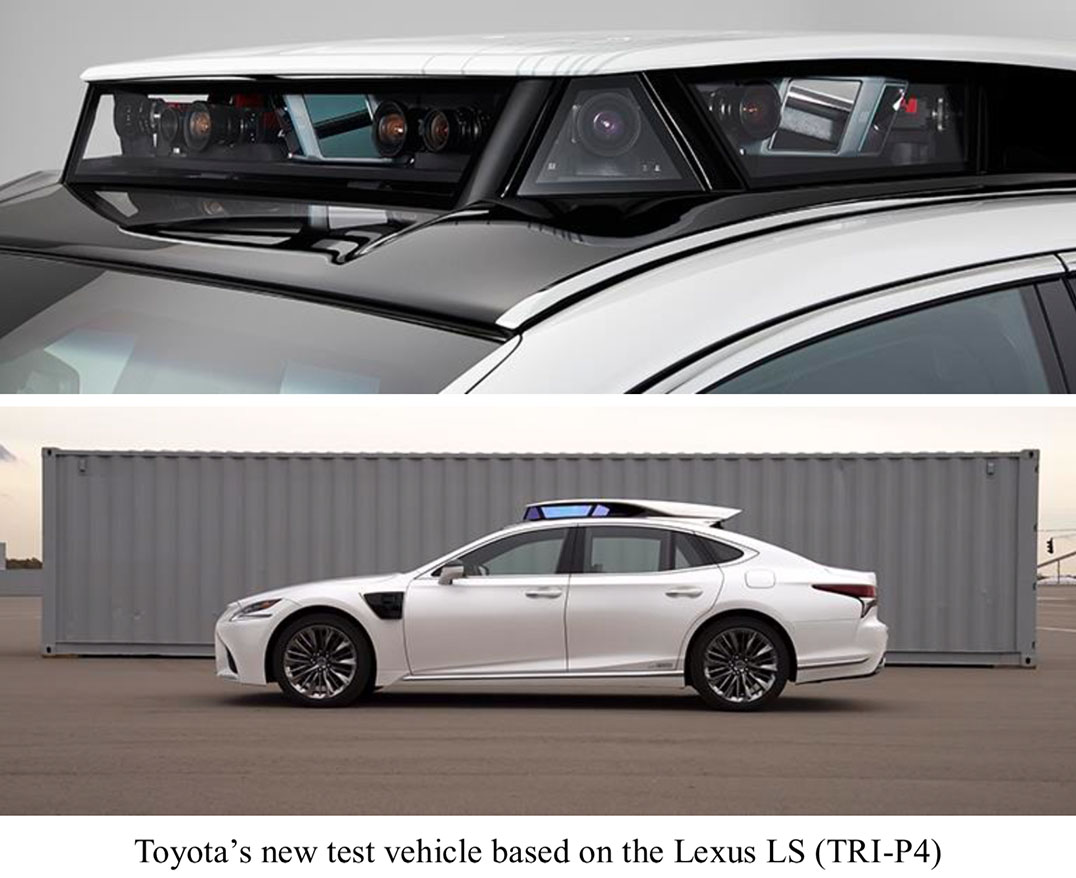 ・In the US autonomous ride-sharing sector, Toyota jointly invested a total of 1 billion US dollars in April 2019 with Denso and SoftBank in a new company of US mobility services giant Uber-ATG (Toyota and Denso about 700 million, SoftBank about 300 million) – Toyota already invested 500 million US dollars in Uber in August 2018. The two companies agreed to introduce Uber's ride-sharing network in 2021 using AD ride-sharing vehicles that link Toyota's Guardian technology and Uber's AD system. The base model will be the North American version of the Toyota Sienna minivan. The two companies have been engaged in joint development. – The companies will continue development of AD ride-sharing vehicles by expanding investment and collaboration. – They will jointly design and develop next-generation AD kits, aiming at mass production of full-scale AD ride-sharing service vehicles and commercialization of services. – In addition to the investment, Toyota will contribute up to 300 million US dollars in development costs over the next three years to promote joint development.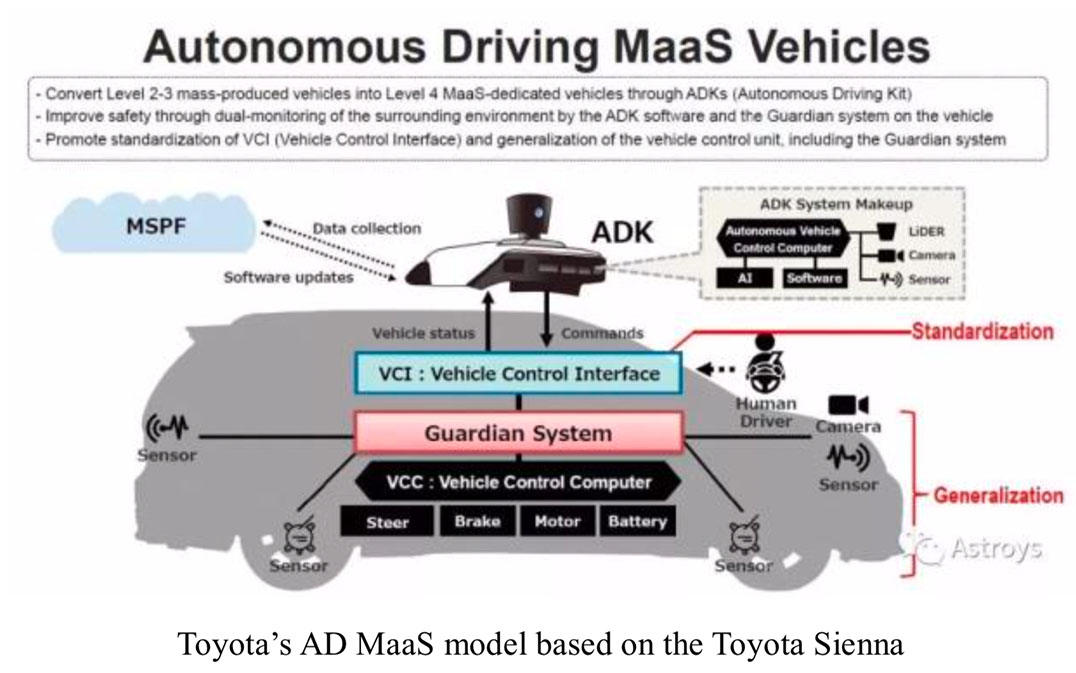 ADAS / AD Strategy
・Daihatsu continues to strengthen development of its own ADAS system called Smart Assist. The latest specifications were launched in 2019. ・Regarding AD, demonstration experiments will be conducted assuming its use in community-based mobile services. Daihatsu is also considering development cooperation with Toyota.
Latest ADAS technology
・Daihatsu has installed the latest driving assistance system Smart Assist Plus into the new Tanto released in June 2019.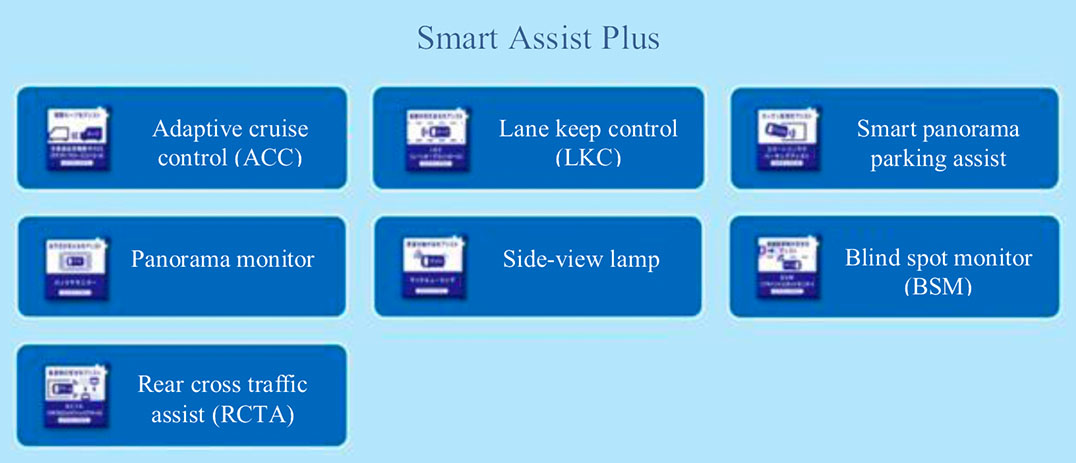 – Smart Assist Plus is a control logic that can fully utilize the functions of a conventional stereo camera sensor. – It is equipped with steering assist-type lane keep control and all-speed tracking cruise control. In addition, the new Tanto is the first light vehicle to have an adaptive headlamp. – Although it is a manufacturer option, parking assist using a surround-view camera and corner sensor is also available. – The Tanto and Rocky (Toyota Raize) models were equipped with this technology as of 2019. Daihatsu plans to introduce the new system to its core models at the time when they undergo full-model change.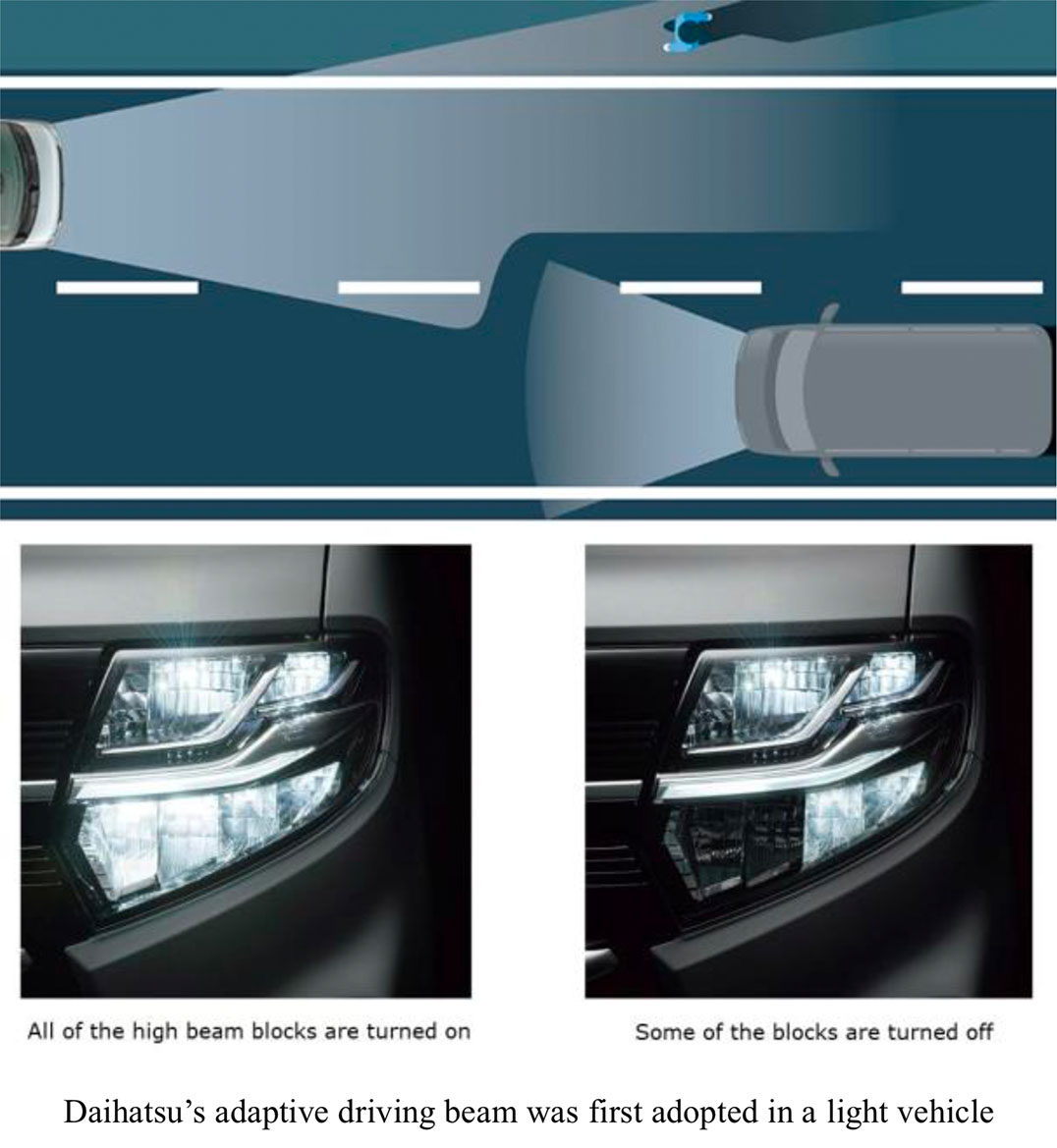 ・Daihatsu aims to prevent accidents caused by not only new vehicles but also by existing ones. Since late 2018, the company has been expanding the range of models that is fitted with a pedal-mistake prevention system. – Starting with the old Tanto, it was also adopted by the old Move and Mira e:S models in 2019.
AD development alliance
・Daihatsu is expected to partner with its parent company Toyota in AD development. Daihatsu is also considering the use of AD in the area of mobility services and plans to strengthen cooperation with local governments.
L4 / L5 AD development trends (MaaS, valet parking)
・Daihatsu is participating in the "Machinaka Automated Mobile Service Business Concept Consortium" hosted by the Japan Research Institute. – Demonstration experiments are conducted in Kobe, Japan from December 2019 to February 2020. – The experiments include mobility service near a residential area and member-only shared-taxi service. – The vehicle used for the experiments is a Daihatsu Atray Wagon-based model. Video taken by in-vehicle cameras and vehicle data are collected from the vehicle terminal. – The demonstration experiment was carried out by a driver. From February 2020, the company plans to conduct technology demonstration experiments including operation of AD vehicles and road-to-vehicle communication. ・Daihatsu introduced the concept model IcoIco and the user-support robot Nipote (Nipote) at the 2019 Tokyo Motor Show, assuming the use of AD in the area of mobility services.
Connected / communication

・Daihatsu has installed its first connected service Daihatsu Connect into the Daihatsu Rocky launched in November 2019. – The service includes safety and security features such as regular maintenance notifications, emergency calls in the event of an accident, in-vehicle Wi-Fi, car position notification in parking lots and destination arrival information. – It is also planned to be adopted by new models to be launched after 2020.
Miscellaneous
・Daihatsu announced in June 2019 that it will take a stake in MONET Technologies, a mobility services company between Toyota and Softbank. – As of December 2019, in addition to Daihatsu, Honda, Suzuki, Subaru, Mazda, Hino, and Isuzu have also invested in MONET. – Members collaborate on data collection among other tasks for the practical application of the MaaS platform in the future AD society.
Subaru
Digitalization / ADAS / AD strategy
・Subaru established the Digital Innovation Promotion Department and the Cyber Security Department in October 2019. The new departments are intended to promote initiatives for digitalization. ・In November 2019, a demonstration experiment of a Projection Complement System (PCS) using projection mapping was carried out jointly with OKI. ・Subaru is using digital tools for objective evaluation of vehicle design. ・Regarding its own AD development policy, Daihatsu is focusing on R&D for the evolution of the Eyesight driving support system and on the development resources of ADAS. – The company plans to launch the new generation Eyesight in 2020 and gradually increase the number of models installed. ・AS for AD, the company will place importance on cooperation with Toyota.
Latest ADAS technology
・Subaru plans to equip the new Levorg, which will be launched in 2020, with the new generation Eyesight, which has expanded sensing range and enhanced driving support functions. – The new generation Eyesight continues to use image recognition with a stereo camera, but has a wider recognition range than conventional models. In addition, by combining it with four radars, front, rear, left and right, sensing in all directions of the vehicle became possible. – In conjunction with GPS, the quasi-zenith satellite "Michibiki" and a high-accuracy map locator, Eyesight indicates precise position of the vehicle and the shape of the curve on the road, enabling hands-free operation in times of congestion on highways.
AD development alliance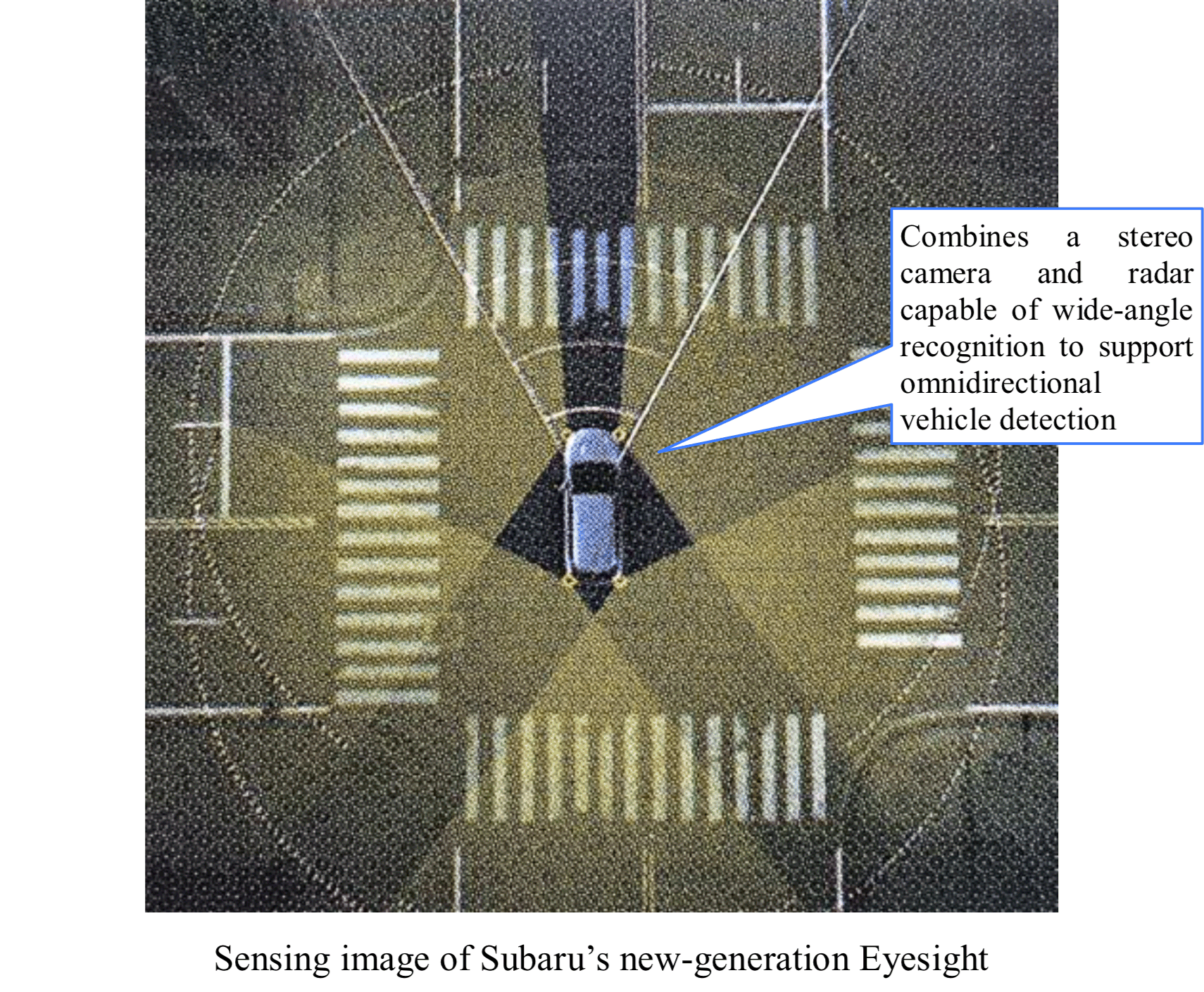 ・Subaru has announced in September 2019 that it will collaborate with Toyota in the field of AD technology as part of its strengthened partnership with Toyota. ・Subaru is also supporting startups in the areas of sensing and data communication technologies that lead to AD through the private fund SUBARU-SBI Innovation Fund established in 2018.