AAA weekly
2020-07-27
Copyright FOURIN, Inc. 2023
Jing-Jin Electric Enhances NEV Drive System Production in Anticipation of Market Growth in China
Jing-Jin Electric Technologies (Beijing) Co., Ltd. (JJE) is a Chinese drive motor supplier for new-energy vehicles (NEV). It has an R&D center in Beijing and production plants in Shanghai, Hebei, Zhejiang and Shandong. Drive motor delivery to automakers dropped 21.1% year-on-year in 2019 to 94,000 units due to the government's decision to reduce subsidies on NEV purchases. In the first quarter of 2020, delivery declined 91.6% to 2,800 units as a result of the outbreak of the new coronavirus among other factors.
Despite reduced subsidies and the impact of the new coronavirus, JJE is working on expanding production capacity in anticipation of sustainable growth in the NEV market. The company is building an e-axle plant Heze, Shandong province to supply BEV and PHEV models. The plant is scheduled to be fully operational in 2022.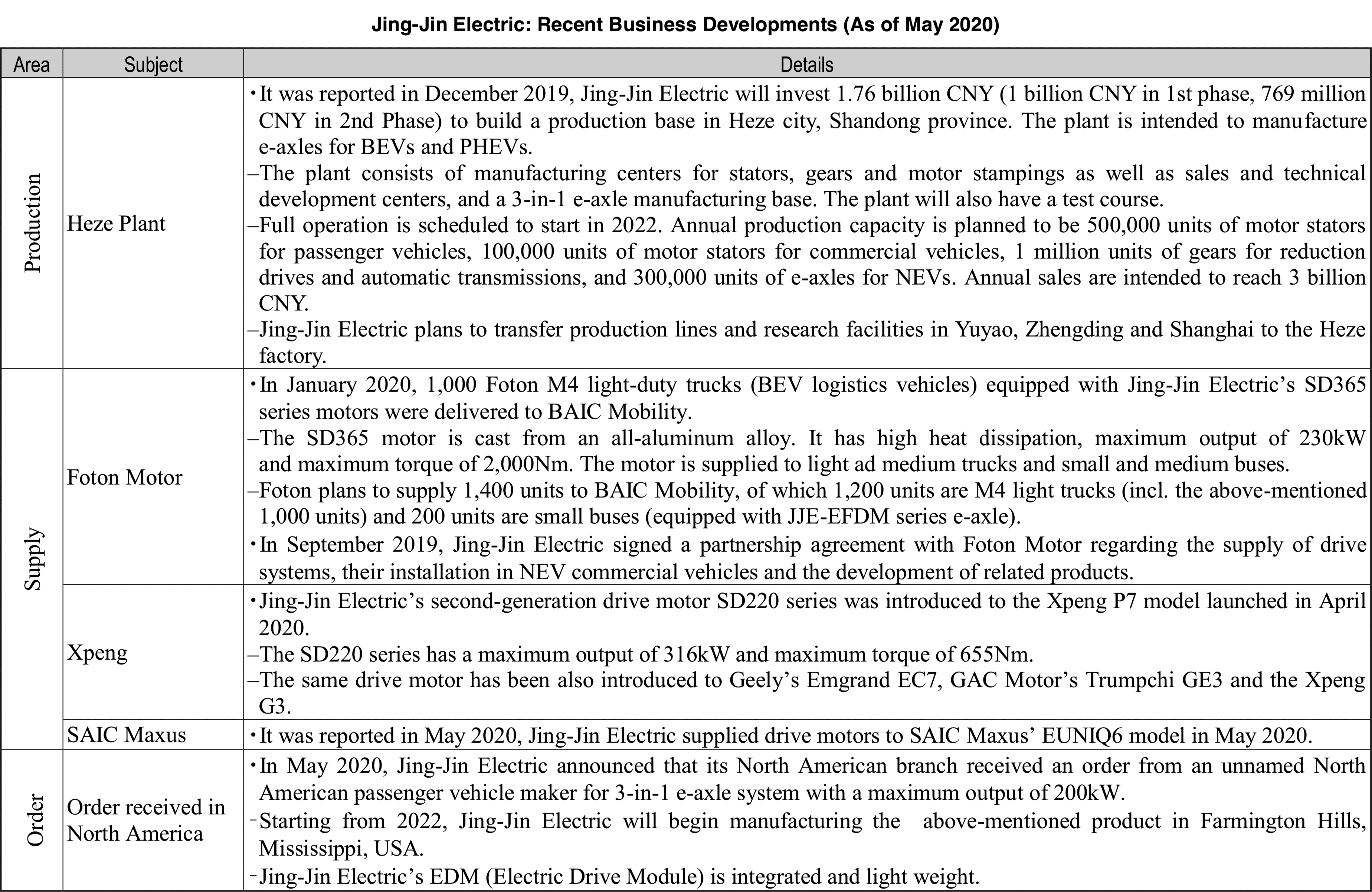 JJE is working on improving performance by integrating drive systems for NEV models. In addition, 2-in-1 e-axles which combine a motor and a gearbox, JJE has launched the 3-in-1 JJE-EDM3000F series e-axle which integrates a motor, a gearbox and an inverter. The motor's rotational speed was increased from 12,000rpm to 16,000rpm, the gearbox's cost was reduced 15–20% and total weight was lowered 2–3kg.
JJE has been mainly supplying GAC Group and Geely Automobile. The supplier expanded its clientele in 2020 by starting supplying Foton's M4 light truck, Xpeng's P7 and SAIC Maxus' EUNIQ6.
Jing-Jin Electric: Product Overview (As of May 2020)
Main Product
・Jing-Jin Electric's main product is the JJE-EDM3000F series e-Axle. – Introduced in January 2019. – Integrated design consisting of a motor (square wire), gear box (one stage) and inverter. – The motor has a maximum rotation of 16,000 rpm. The standard edition has a maximum output of 160kW and a maximum torque of 3,000Nm. The high-end edition has a maximum output of 230kW and a maximum torque of 4,000Nm. –The standard edition weighs 95kg (oil excluded). The water-cooled inverter is 8.5 kg which is 2–3 kg lighter compared to the conventional version. Noise emission is 80dB or less (A). The cost of the gearbox was reduced 15–20%. E-parking device is offered as optional equipment.
Product Exhibition
・In April 2019, Jing-Jin Electric exhibited the JJE EDM2000F, JJE EDM3000F and JJE EDM4000F (incl. DC-DC converter) models at the Shanghai auto show. –These products may be introduced to C segment and larger passenger vehicles (FOURIN classification), SUVs, seven-seater MPVs and light trucks. ・At an exhibition in September 2019, Jing-Jin Electric exhibited an oil-cooled double motor installed in the Chrysler Pacifica, used for Google's self-driving fleet service, and a high-performance motor with maximum output of 180kW installed in the Fisker Karma sports car. The company also displayed battery packs, BMS and other products.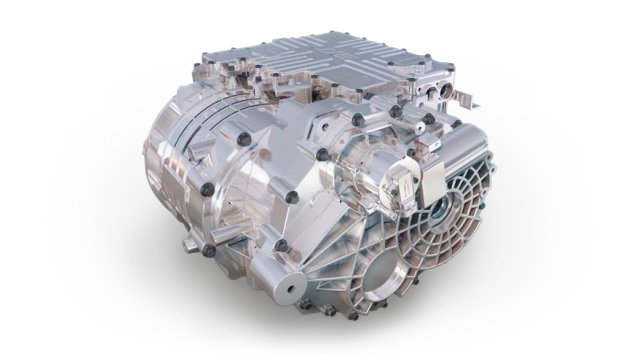 (Created using Jing-Jin Electric's PR materials and various media sources)