AAA weekly
2020-06-22
Copyright FOURIN, Inc. 2023
Nissan Motor's 2019 Production and Sales Drop Double Digits in India
In 2019, Nissan Motor's sales in India fell to 24,000 units the lowest level in the past five years. India's market contracted more than 10% year-on-year in 2019 against the backdrop of slowing economic growth. Meanwhile Nissan's rate of decline greatly outpaced that of the overall market, dropping 43.5%. On the other hand, production fell only 13% to 92,000 units thanks to strong exports. However, Nissan has an annual production capacity of 480,000 units together with Renault in India, so factory utilization rate is a pressing problem. In contrast, export increased 15.9% to 75,000 units, surpassing 70,000 units for the first time in two years.
In June 2018, Nissan named India as one of the frontier markets with high growth potential, and announced a policy to strengthen its business operations. However, Nissan's business performance deteriorated rapidly after that, and the business plan is being reviewed. As part of this plan, Nissan announced in July 2019 that it would reduce the number of employees globally by about 12,000. As part of this plan, Ford's workforce in India was planned to be reduced by 1,710 people in fiscal 2019. It appears that 13.5% of the total workforce was laid off.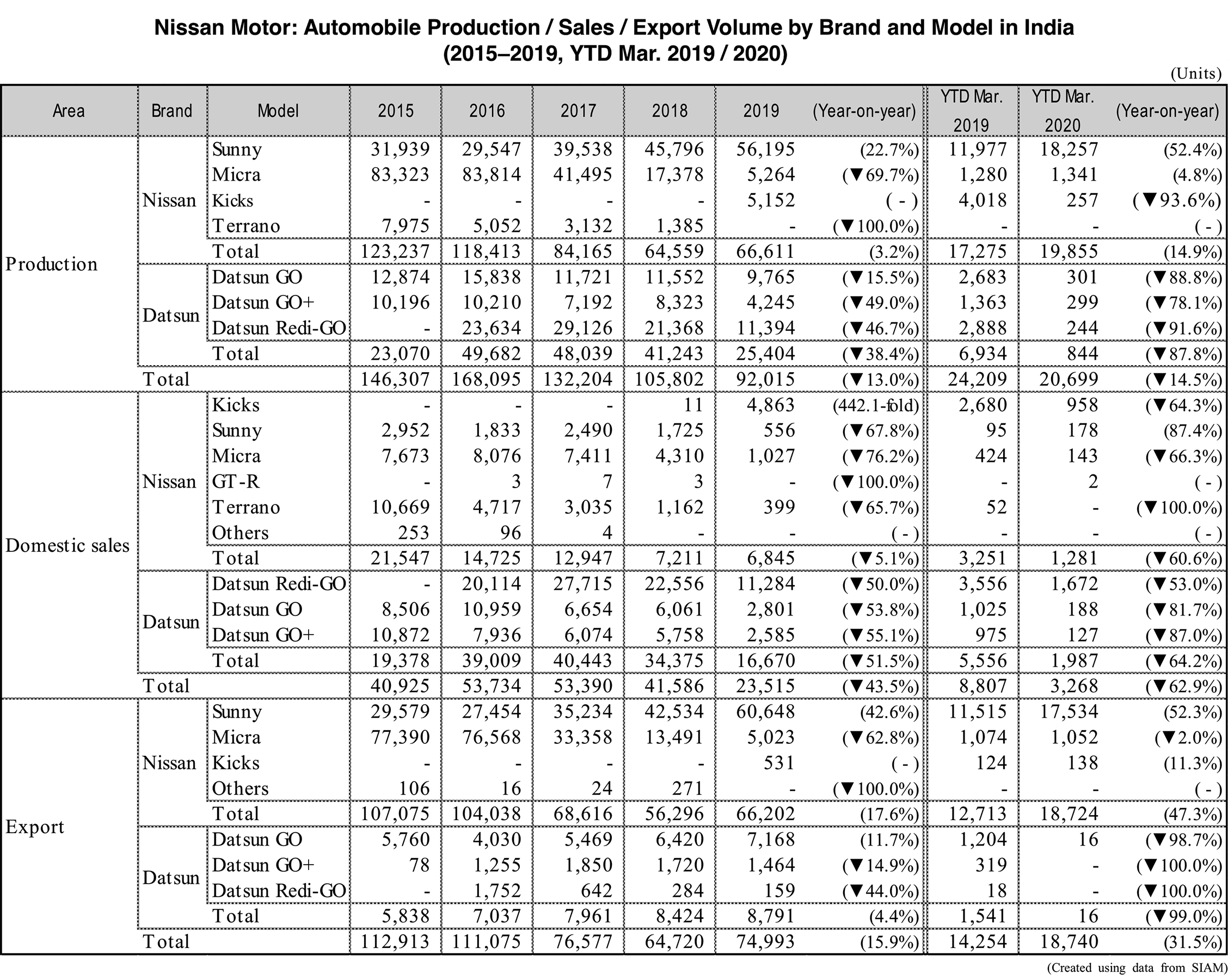 As of February 2020, Nissan was considering taking additional measures based on the market environment, so there is a possibility that further personnel cuts will be conducted in India. Nissan is promoting rationalization of its global product lineup. In India, one new model is planned to be released annually starting from 2020. The first model, a compact SUV, was announced in January 2020. It is expected to be built on the CMF-A platform which is an architecture Nissan shares with Renault.
Nissan is trying to rebuild its business, but the effects of the new coronavirus could hamper efforts. Nissan stopped production in India on March 23, 2020 and the market is expected to shrink even further, so it is likely that Nissan's woes are far from over.