AAA weekly
2020-05-25
Copyright FOURIN, Inc. 2023
Daihatsu's New Light SUV Taft to Enter the Market in Summer 2020
Daihatsu unveiled the Taft Concept, a light SUV, at the Tokyo Auto Salon 2020 in January 2020. It is an improved version of the WakuWaku announced at the Tokyo Motor Show 2019, and is the third DNGA model developed as a personal car that can be used in wide-ranging situations from everyday life to the outdoors. Following the small SUV Rocky, it is scheduled to be launched in June 2020 with the aim of capturing demand in the expanding domestic SUV market.
The Taft has separate concepts for the front and the rear. The front seats offer a space for concentrating on driving, while the rear seats may be used as luggage compartment. The Taft Concept has a 50mm lower overall height than its rival the Suzuki Hustler, while it has a glass roof in the front to create an open feeling. As for the rear seats Daihatsu has pursued usability by realizing a fully flat cargo bed with the rear seats folded down.
Daihatsu: Exterior of Taft Concept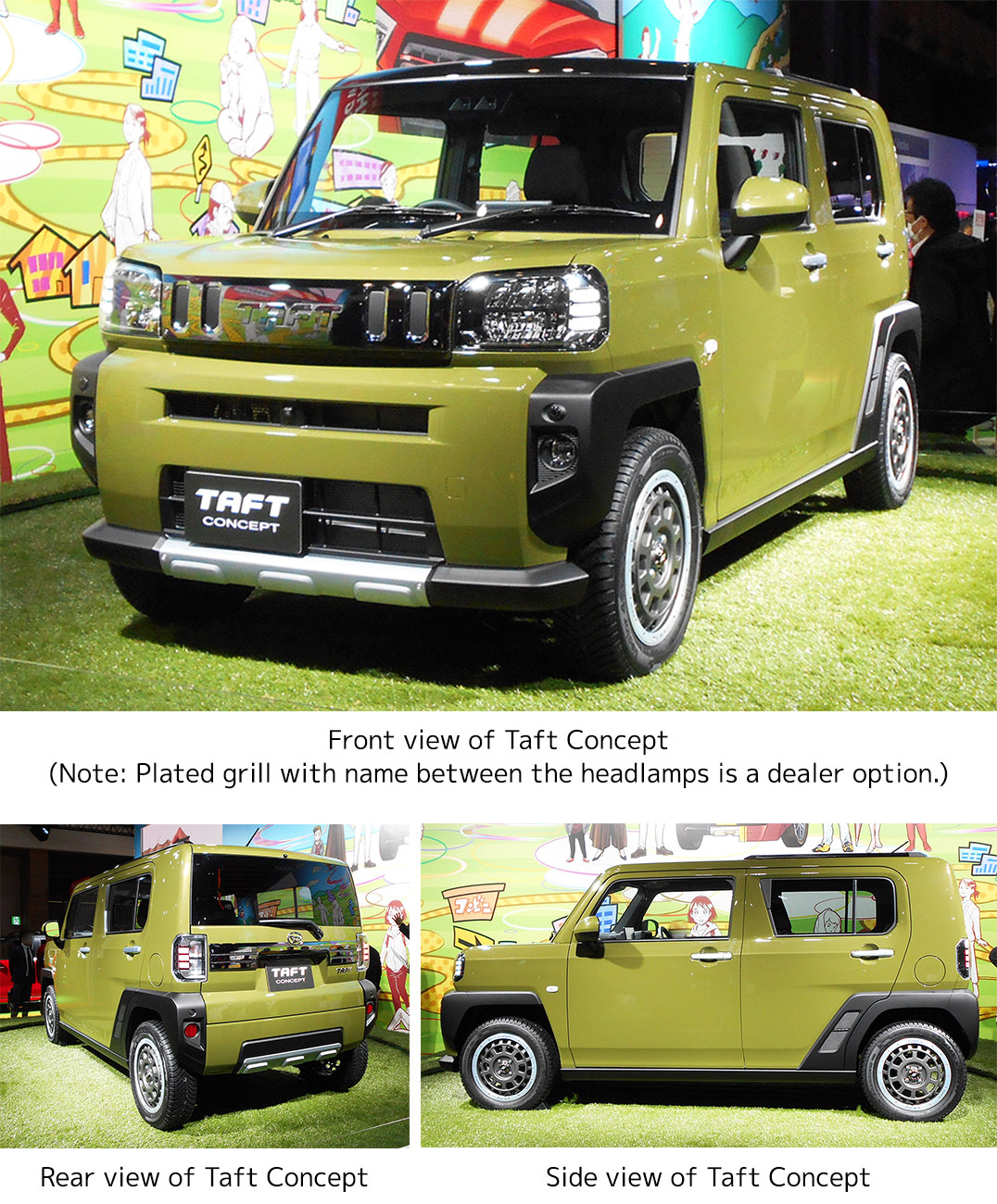 "Partner who can be active in various fields from everyday life to leisure"
・A square body design has been adopted to give the impression of being tough and versatile both outdoors and in the city. – The body was thickened to make the cabin look smaller. Its "wide & low" design makes it feel like shorter than its actual height of 1,630mm. – Tire size is 165/65R15. Big tires make its stance look good based on the belief that it would raise product strength. – The bumper was made to look like an over-fender, and the plastic parts that were attached later were added to emphasize toughness. – The lower part of the plastic parts of the fender was cut diagonally so that the cap tread part of the tire could be seen. The aim was to create a visual effect that looks like a car with high running performance. It is common to hide the tires as it is dangerous to expose them. As for the Taft, the design was adjusted in millimeters to expose the tire after satisfying various conditions such as water splash requirements.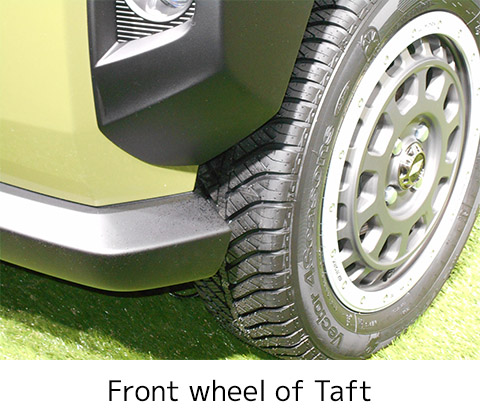 – In addition to forest khaki, lake blue will be also added, which is the same as that of the Taft's predecessor concept model WakuWaku (announced at the Tokyo Motor Show 2019). In order to express toughness, the WakuWaku used a flight jacket with an orange lining as the color theme. The Taft Concept also followed the same theme, keeping the orange color interior.
(Created using Daihatsu Motors' PR materials and data collected by FOURIN)
---