AAA weekly
2020-10-19
Copyright FOURIN, Inc. 2023
Ashok Leyland Launches Two New Platforms to Consolidate Technology, Expand Product Lineup
Indian commercial vehicle giant Ashok Leyland is working to diversify its business with the aim of becoming one of the top 10 truck manufacturers in the world. Ashok Leyland is second only to Tata Motors in the Indian medium- and heavy-duty commercial vehicle market, and its market share has been stable at around 30-35%. On the other hand, its presence is low in light commercial vehicle sector and overseas markets. In the coming years, while maintaining its current presence in the medium- and heavy-duty commercial vehicle sector, the company plans to focus on light commercial vehicles, exports, and electrification.
Looking at major developments in India, Ashok Leyland started installing the newly developed iGen6 engine in January 2020 in response to the new emission regulation BS6 (Bharat Stage 6) introduced in April 2020. The iGen6 is a combination of EGR (exhaust gas recirculation) system, which contributes to NOx reduction and fuel efficiency improvement, and SCR (selective catalytic reduction) system which is used to remove NOx. By reducing the number of sensors installed, it is said that maintenance costs have also been reduced.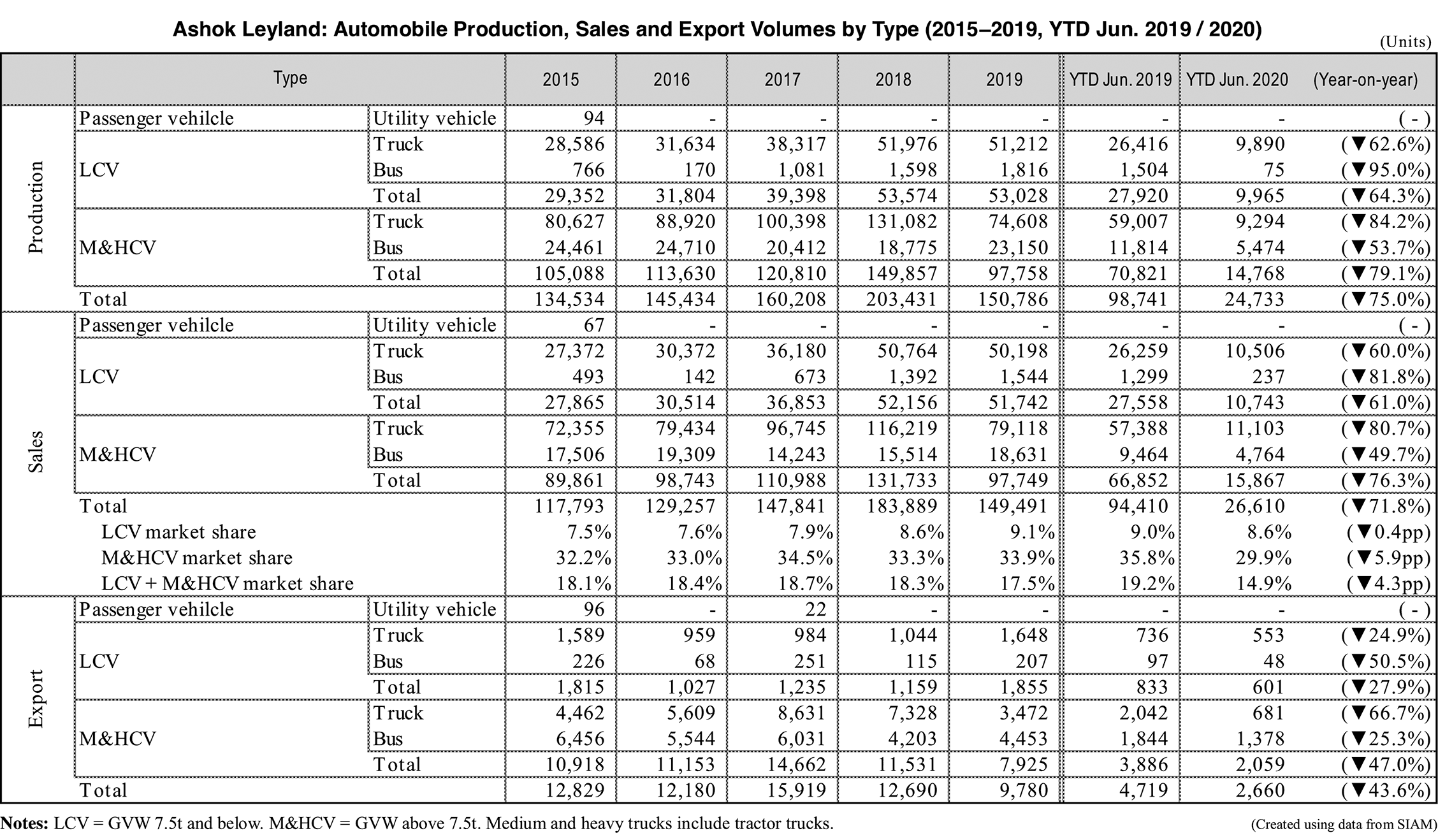 Ashok Leyland has also introduced two newly developed platforms in response to the introduction of BS6. In June 2020, Ashok Leyland announced the introduction of the modular platform AVTR for medium- and heavy-duty trucks, ranging in GVW from 18.5t to 55t. In September 2020, the company announced a new platform for light commercial vehicles and released the first light-duty truck model the Bada Dost which is built on the new platform. In the coming years, Ashok Leyland plans to release additional models to expand its light commercial vehicle lineup.