AAA weekly
2020-05-18
Copyright FOURIN, Inc. 2023
"Healthy" Interior with Toxin-Free and Antiviral Materials and Decontamination Systems Is Trending
Against the backdrop of increasing the needs for health-consciousness and comfort, there has been an increasing number of solutions for interior materials, such as using special fibers and adopting specialized processing methods by combining new and old technologies. In addition to filters, companies provide solutions that can eliminate/reduce allergens (such as pollen and house dust mites) and other harmful substances (such as flu virus and PM2.5).
In Japan, Honda has already released antiviral/anti-allergen solutions for seats and air conditioning with the new NBOX and the new Freed. Hella (Germany) and Yanfeng (China) have begun mass production of healthcare integrated modules combined with infotainment functions for markets with high demand like China.
Major American and European OEMs, providing high-end models and EVs, focus on health, sustainability, and life cycle assessment (LCA) for interiors. Their manufacturing process is also toxin-free, eliminating substances that may be harmful to the human body.
The sustainable artificial suede material Dinamica is a typical example, developed by Miko (Italy), a subsidiary of Asahi Kasei. Its production process is similar to that used for paper recycling, in which no harmful chemical substances are used. Dinamica meets the requirements for the next-generation interior materials and the durability required for in-vehicle use. This ecological microfiber is widely adopted and used for commercial models and concept cars.
Integrated Interior/Exterior System with Antiviral,
Anti Allergen and Disinfection Materials
Healthcare Interior Materials

・Honda adopted Aller Clean (plus) seat to the new NBOX model. -Jointly patented with TB Kawashima and Sekisui Chemical. Utilizes antiviral processing agent and anti-allergen processing agent developed by Sekisui Chemical. ・Antiviral treatment is applied to the seat surface. Tested based on the ISO 18184 standard and resulted in 99.9% reduction of enveloped viruses, including Influenza and corona, compared to non-antiviral fabric. - Adsorbs viruses and denatures constituent proteins to inactive. ・Anti-allergen processing is also applied. Inactivate allergens such as house dust mites and tree pollens on the seat surface. - Inactivate 94.3% of house dust mites and 82.0% of tree pollens (tested by Honda). ・Coating fiber with antiviral and anti-allergen processing agenets.
Healthcare Interior/Exterior System
Hella: Air Quality Management System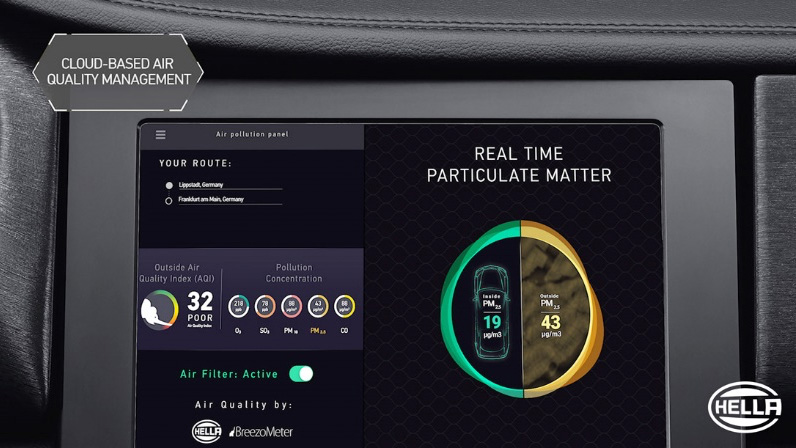 ・Hella (Germany) codeveloped a cloud-based air quality management system with BreezoMeter (Israel). The system is equipped with a particle detect sensor. - Mass-production is scheduled in the end of 2020. Volvo Car will be the first OEM to adopt the system. It was originally developed for the Chinese market, but Volvo Car will also adopt the system to 90/60 series for the global market. - Uses a newly developed particulate sensor by Hella. It measures the level of particulate matter inside and outside the vehicle, including PM2.5 with a diameter of 2.5μm or less. - Promotes prevention of long-term health risks such as pneumonia in urban areas. ・The system utilizes high-precision air quality data through API and advanced air filters by BreezoMeter. ・Adopts two PM2.5 sensors per customer's request. - The first sensor automatically controls the air quality inside the vehicle by adjusting the air supply and the use of air filters. - The second sensor measures the level of fine dust/particulate around the vehicle, displaying the information on the center display and controlling the air circulation system. ・Hella expects the system to be utilized for navigation systems to select less polluted routes.
Yanfeng: Wellness Pod – UV Air Sanitization and Non-liquid Scent Dispensing System

・Interior supplier Yanfeng (China) developed a unique antimicrobial device called Wellness Pod with built-in technology for UV distribution, integrating UV Air Sanitizer, Multi-Scent Dispensing, and UV Surface Sanitizer. - The slim Wellness Pod console features a touchpad interface with user-friendly smartphone app control. - Can seamlessly concealed and integrated into the cabin interior. It can be mounted as an overhead console or be used as a portable unit. - Targeting personal, sharing, and car-hailing vehicles.
Toyota: Air Purification Coating
・Toyota introduced an AI-onboard concept model LQ at 2019 Tokyo Motor Show. LQ features an air purification coating that decomposes ozone into oxygen, which is jointly developed with Aisin Chemical and Cataler. - It is applied on the radiator fan. - Allows ozone near the ground surface to be decomposed while driving. - The effect of the coating purifies about 60 % of ozone contained in 1,000 litters of air over the course of an hour drive. - Toyota expects this technology to help clean emissions during drives and is considering the coating for use in commercial vehicles in the future.
(Created using Honda presentation materials from JSAE 2017, PR materials and various media sources)