AAA weekly
2022-04-20
Copyright FOURIN, Inc. 2023
Toyota Motor's Global EV Strategy in the 2020s
Toyota Motor plans to sell 3.5 million BEVs globally in 2030, and is expanding its BEV lineup to this end. As of March 2022, Toyota manufactured BEVs in Japan and China, but manufacturing bases are expected to be set up in other countries as well as Toyota's BEV lineup expands. Regarding batteries, which are the key to the market expansion of BEVs, Toyota has been strengthening its production system and is also focusing on the development of new materials and structures in order to reduce costs. In December 2021, the automaker announced the establishment of a new EV battery plant in North Carolina, USA. Production is scheduled to start in 2025 with an annual production capacity to manufacture batteries for 800,000 vehicles. Ultimately, production capacity of the plant is intended to be raised to 1.2 million battery sets per year.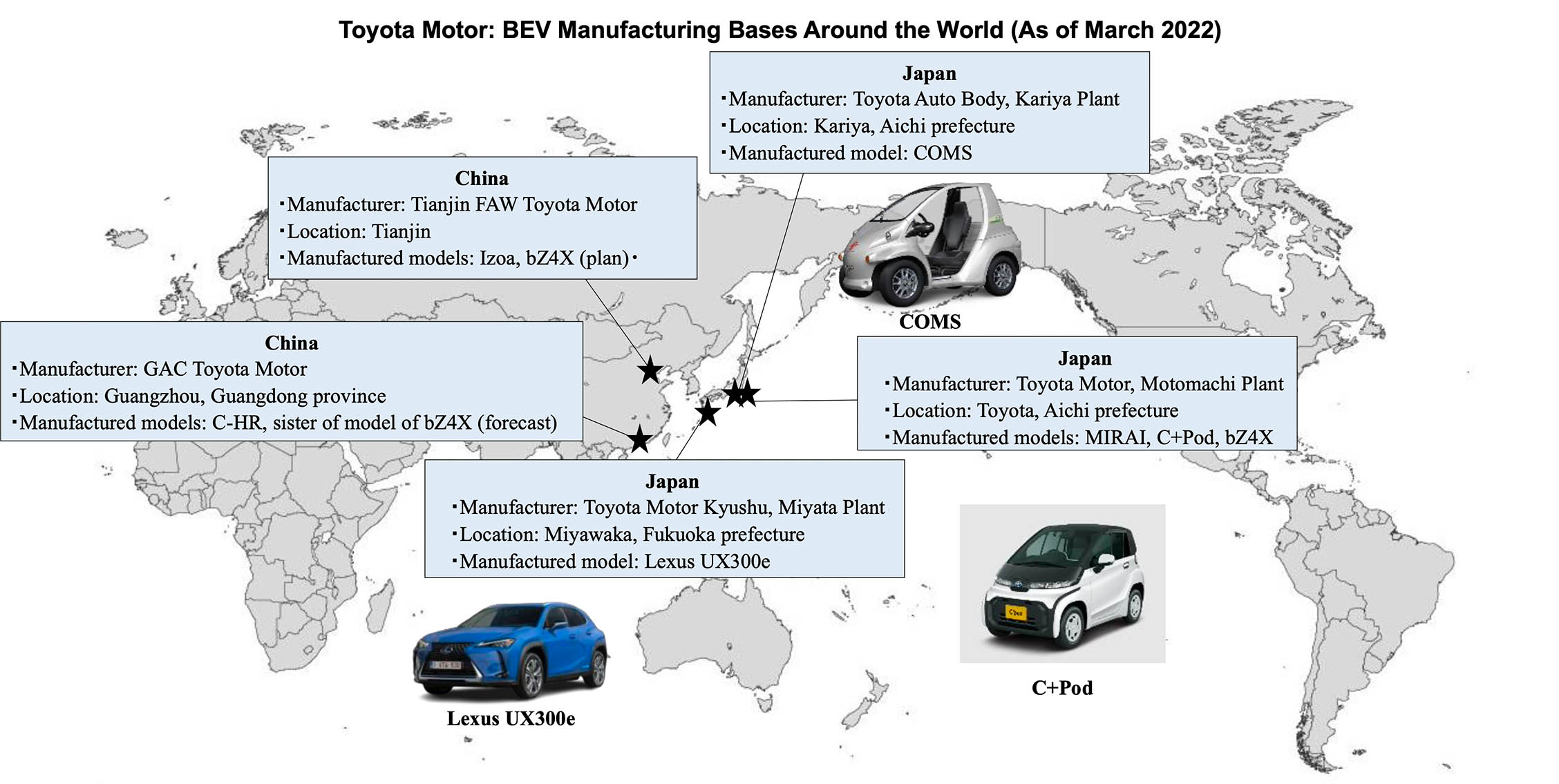 Country
Company / Plant
Location
Type / Model
Notes
Japan
Toyota Motor, Motomachi Plant
Toyota, Aichi prefecture
HEV: Crown, Lexus LC FCEV: MIRAI BEV: C+Pod, bZ4X
・Carries out small lot production. Also manufactures core parts for FCEVs. ・The MIRAI is manufactured on the same production line as the Crown in mixed production mode. However, the hydrogen tank is installed on a separate production line. ・Production of the C+Pod started sometime before Dec. 2020. ・Production of the bZ4X started in mid-2020. Its sister model the Subaru Solterra will likely to be manufactured by the Motomachi Plant as well.
Toyota Motor Kyushu, Miyata Plant
Miyawaka, Fukuoka prefecture
HEV: Lexus ES, CT, RX, NX, UX BEV: UX300e
・Production of the Lexus UX300e began in Apr. 2020. ・Toyota has added battery installation process near the existing production line in order to be able to manufacture BEVs.
Toyota Auto Body, Kariya Plant
Kariya, Aichi prefecture
BEV: COMS
・The COMS is a micro BEV developed by Toyota Auto Body.
China
Tianjin FAW Toyota Motor
Tianjin
HEV: Corolla, Izoa, Crown Kluger PHEV: Corolla BEV: Izoa, bZ4X (plan)
・Production of the Izoa began in May 2020. ・Production of the bZ4X is scheduled to start at a new NEV factory in Jun. 2022, becoming the plant's first model.
GAC Toyota Motor
Guangzhou, Guangdong province
HEV: Camry, Highlander, Levin, C-HR, Wildlander, Sienna PHEV: Levin, Wildlander BEV: C-HR, sister model of bZ4X (forecast)
・The company's 5th production line is scheduled to start operation in 2022. The new production line will manufacture NEVs, possibly including the bZ4X.
Note: ZEV models are in bold typeface.
(Created using Toyota Motor's PR materials and various media sources)