AAA weekly
2020-09-28
Copyright FOURIN, Inc. 2023
Renault Shifts Focus to LCVs and Electric Vehicles in China
In April 2020, French automaker Renault announced its new business strategy in the Chinese market. While selling all of its stake in its local joint venture Dongfeng Renault and withdrawing from the Chinese conventional passenger vehicle sector, Renault intends to shift its focus to light commercial vehicles and electric vehicles in China.
After the dissolution of Dongfeng Renault, Renault will expand its light commercial vehicle business centered on Brilliance Renault which owns China's popular jinbei brand. The company plans to expand its product lineup by using the assets of the Jinbei brand and Renault's advanced technology, launching five light commercial vehicle models, including electric vehicles, by 2023. The new products are expected to be equipped with connected technology. In June 2020, Renault opened a development center within the premises of Brilliance Renault's Shenyang plant to strengthen its local development system. Meanwhile, in the electric vehicle sector, Renault is advancing operations through two local joint ventures eGT New Energy Automotive and Jiangxi Jiangling Group Electric Vehicle (JMEV). eGT was established in December 2017 as a tripartite joint venture by Renault, Nissan Motor and Dongfeng Motor. Renault has a 25% stake in the venture. In September 2019, eGT launched the Renualt Kwid-based small SUV Renault City K-ZE as Renault's first electric vehicle model in China. After its release in the Chinese market, the model is planned to be launched in Europe as well in 2021.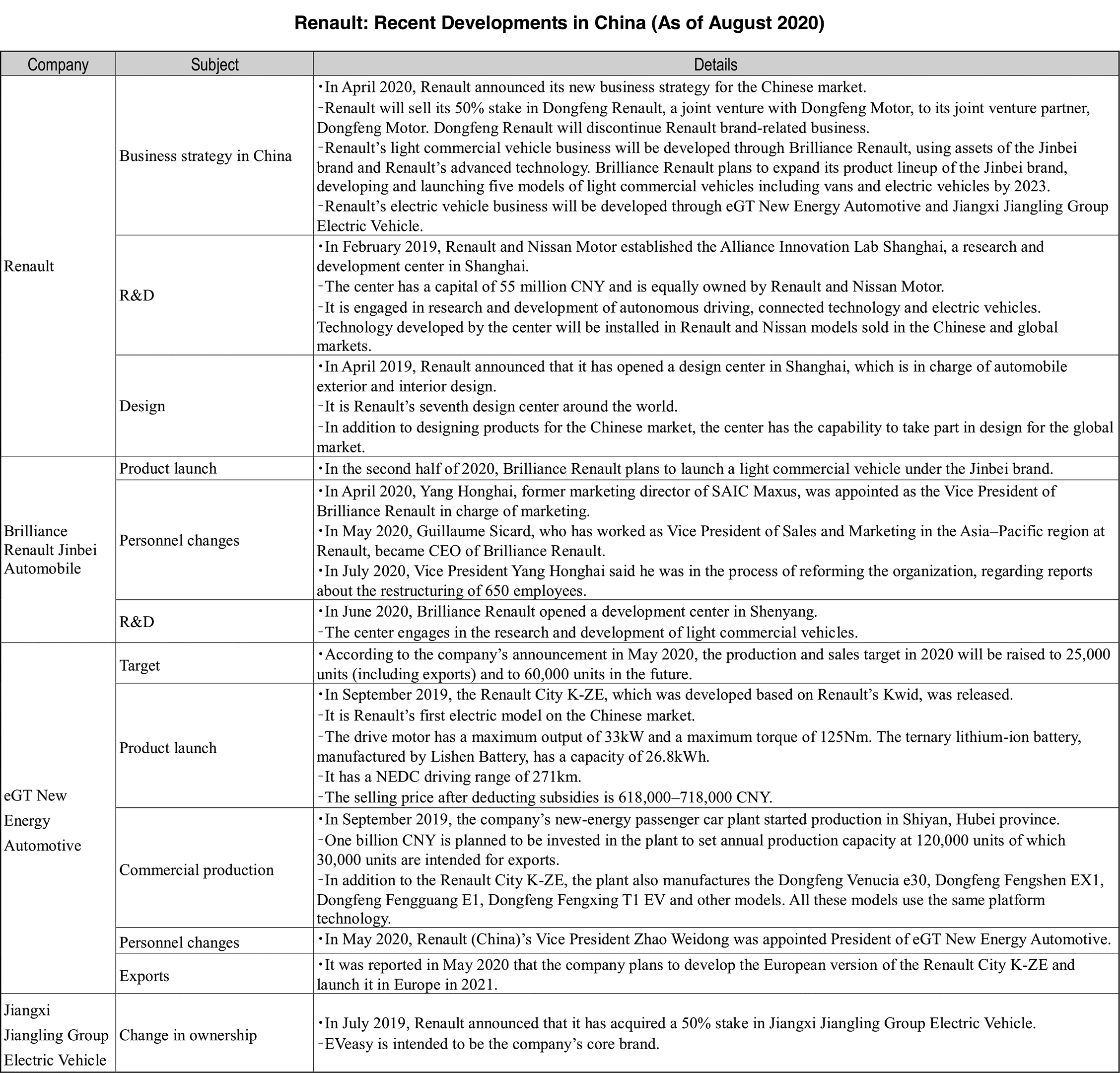 In July 2019, Renault announced that it would acquire a 50% stake in JMEV for 1 billion CNY. Renault plans to support JMEV in four areas namely development, manufacturing, sales and aftersales service. EVeasy is intended to be the company's core brand. In the future, the development of new products is expected to accelerate after the incorporation of Renault's management system and technology. Looking at the product launch trends of JMEV, the EVeasy EX5 was launched in September 2019 which is the renamed version of the Jiangling E400. In December of the same year, JMEV added two extra grades to the E200L and E200N models. According to media sources, two additional models are planned to be released in 2020.
In China, Renault's light commercial vehicle business is expected to advance steadily against the backdrop of rapid growth in the logistics industry. However, the electric passenger vehicle sector is temporarily facing various obstacles such as the pandemic, reduction of electric vehicle subsidies and the cooling of the market.