AAA weekly
2020-08-10
Copyright FOURIN, Inc. 2023
Indonesia's Automobile Market by Segment in 2019: Sales Decrease 10.6% to 1.03 Million Units
The Indonesian automobile market decreased 10.6% year-on-year to 1.03 million units in 2019. Sales fell double digits due to the shrinking demand for new automobiles. Passenger cars, SUVs and MPVs each fell around 10%. There were no major trend changes regarding vehicle types or segments, small MPVs remaining the largest segment in Indonesia.
Passenger car sales dropped 8.9% to 165,000 units. Of which the A segment fell 15.3% to 52,000 units a 50% drop compared to 2015's level. The Toyota Agya and Daihatsu Ayla, two LCGC-compatible sister models decreased 13.8% to 25,000 units and 18.0% to 22,000 units respectively. The B segment fell 4.8% to 108,000 units. The LCGC-compatible Honda Brio Satya, whose fully-redesigned version was released in the second half of 2018, went up 16.5% to 55,000 units, taking top position in the B segment. The Honda Brio Satya was followed by the Honda Brio (up 27.0% to 16,000 units) and the Honda Jazz (down 14.7% to 12,000 units), three Honda models dominating the top three positions. Other passenger car segments sold a combined total of 5,593 units, accounting for 0.5% of all passenger car sales.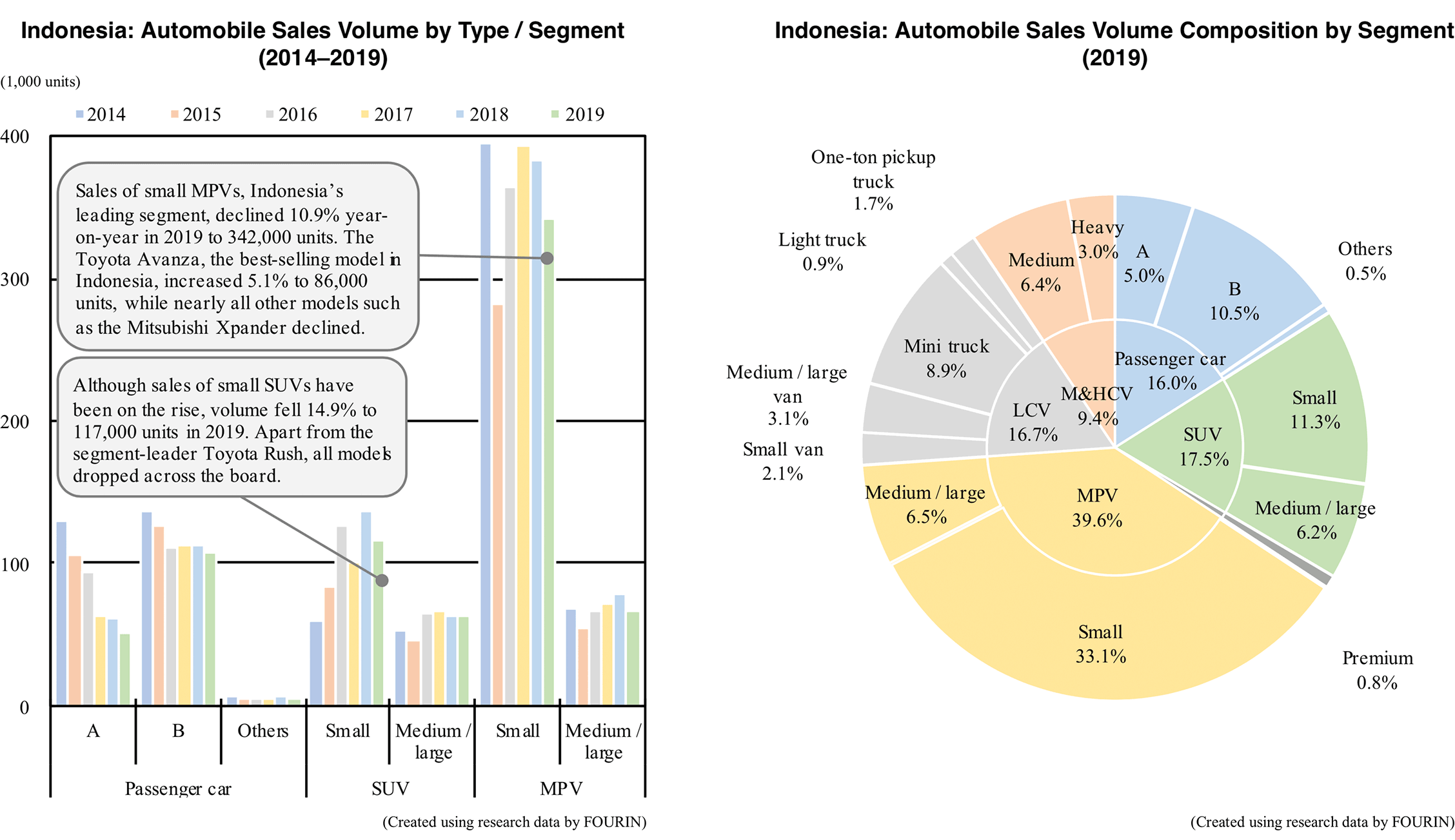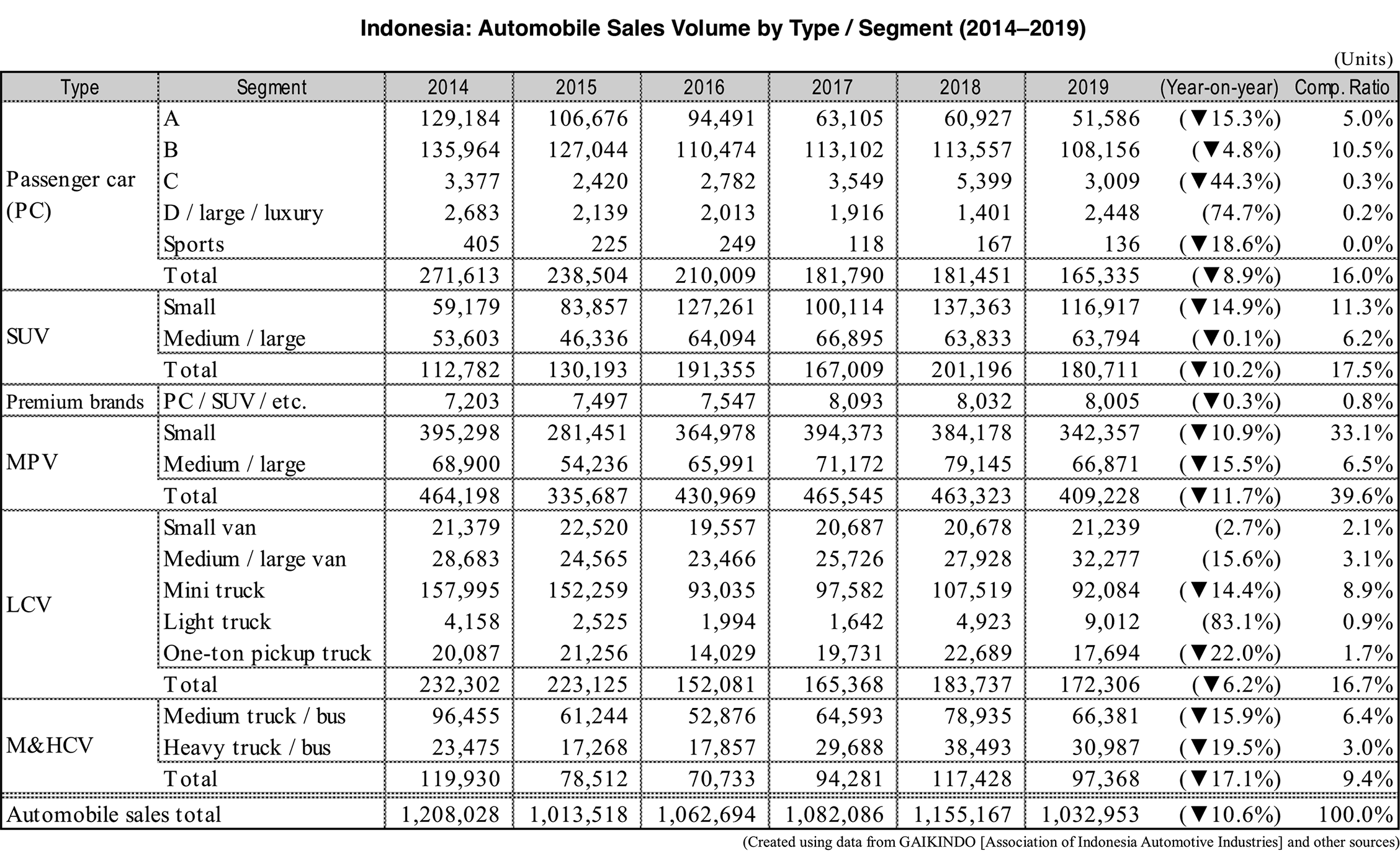 SUV sales fell 10.2% to 181,000 units. Of which small SUVs declined 14.9% to 117,000 units. The Toyota Rush increased 15.9% to 62,000 units while all other models in the segment declined across the board. The Honda HR-V decreased 37.0% to 22,000 units and the Honda BR-V decreased 55.5% to 4,071 units. Contrary to the B segment, Honda's presence continues to decline in the small SUV segment. Medium / large SUVs dropped 0.1% to 64,000 units. The Mitsubishi Pajero Sport decreased 13.0% to 18,000, but it captured top position for the first time in four years. The Toyota Fortuner, ranked second in 2019, declined 19.8% to 17,000 units. The Wuling Almaz, which was launched in February 2019, took fourth position with 9,743 units.
MPV sales dropped 11.7% to 409,000 units. Of which small MPVs fell 10.9% to 342,000 units. The Toyota Avanza, Indonesia's best-selling model, increased 5.1% to 86,000 units. The Avanza, whose revamped model was released in January 2019, went up first the first time since 2013. Mitsubishi Xpander, ranked second in 2019, fell 16.5% to 63,000 units. The Toyota Calya (down 14.7% to 55,000 units) and Daihatsu Sigra (up 2.7% to 52,000 units) sister models took third and fourth place respectively. Medium / large MPVs decreased 15.5% to 67,000 units. The market-leader Toyota Kijang Innova dropped 11.2% to 53,000 units.