AAA weekly
2020-01-27
Copyright FOURIN, Inc. 2022
Nidec Starts Production of 1st-gen E-Axle, R&D of 2nd, 3rd Generation Is Underway
With the expansion of the BEV market in mind, the number of component manufacturers that newly enter the integrated traction motor system (E-Axle) sector is increasing. There are few manufacturers that can make all of their motors, gears and inverters in-house. As acquisitions and alliances become more active in search of technologies that are not available in-house, Nidec is drawing attention as a unique company. Nidec is developing E-Axle based on technology acquired in the past through M&A. The company is targeting primarily Chinese and European automakers. Nidec's automotive business focused on small motors (actuators) for fans and oil pumps in the past, but the company launched full-scale development of E-Axles around 2016. Nidec itself is developing motors and gears, while its subsidiaries Nidec Elesys is developing inverters and Nidec Tosok is engaged in the developing of the entire system. In spring 2018, Nidec introduced the first generation of E-Axle. GAC Motor has already decided to adopt it and inquiries have been also received from 15 companies, mainly European and Chinese automakers.
Nidec's first generation E-Axle (Ni150F) has a maximum output of 150 kW (30 seconds), a rated output of 70 kW and weighs 87 kg (base model). A parking lock and a disconnecting mechanism can be freely attached to the system. A two-way cooling system that combines an electric oil pump and a mechanical oil pump has been adopted as a measure against heat, which is an issue that had to be addressed to ensure thorough downsizing.
Nidec started production of the first-generation in China in April 2019. Furthermore, the development of the second and third generations which will be smaller and lighter is also underway. Production of a fully-integrated electromechanical system is scheduled to start in 2023. The same year is also the time when Nidec and PSA's joint venture, Nidec PSA emotors, plans to start mass production of E-Axles. Eaton will supply a high-power-density inverter to this joint venture.
Nidec also plans to enter the BEV platform business in the long term, using its traction motor technology as a foothold.
Nidec: Automotive Business
Automotive business sales (actual and target)
・Nidec's automotive business sales reached 295.4 billion Japanese yen in FY 2017. – Powertrain-related sales accounted for 42% of all sales. ・The sales target set for automotive products in FY 2020 is 600 billion Japanese yen. – A target of 700 billion to 1 trillion Japanese yen is set for FY 2020 which also includes M&As. – Actual sales in FY 2018 reached 297.3 billion Japanese yen. ・The sales target set for automotive products in FY 2030 is 4 trillion Japanese yen. – The company plans to strengthen sales of integrated traction motor systems (E-Axle) from 2019 and set them as a pillar of earnings by 2025. – The automotive business will be expanded based on three key areas; electric power steering (EPS), next-generation brake systems (energy regeneration) and traction systems. – In addition, the company handles electric oil pumps and ADAS products (monocular cameras and millimeter-wave radars).
E-Axle and traction motor supply
・In December 2018, the company received an order for E-Axles from GAC New Energy, the electric vehicle division of GAC Motor. – The company will supply the first-generation E-Axle (Ni150F) to GAC New Energy's Aion S model. ・According to Nidec's announcement in April 2019, E-Axle has received inquiries from eight Chinese OEMs, three European OEMs, one US OEM, two Japanese OEMs and one Korean OEM. ・Traction motors or traction motor parts have received inquiries from one European OEM and five European Tier 1 companies. ・The combined total of confirmed orders and inquiries (if all orders are received) will reach 350 billion Japanese yen in 2023. – Confirmed orders only amount to 60 billion Japanese yen. ・In the long term, BEV platform business is also under consideration.
E-Axle production
・Nidec has an E-Axle production base in China's Zhejiang province. – Annual production capacity is set at 600,000 units. ・In addition, a second plant is planned to be built in China's Liaoning province. – Operation is expected to start around 2021. ・Additionally, the company plans to establish traction motor production bases in Poland and Mexico. In the long term, India is also under consideration as a potential production site.
EPS motor business
・Nidec started producing the first generation of electric power steering (EPS) motors in 2003. Production of the fourth generation started in 2015 while promoting downsizing, weight reduction and high output. ・Nidec's EPS motor lineup covers all vehicles from the A to the E segments. – Nidec manufactures all types of EPS motors (rack belt, dual pinion, column).
Brake motor business
・Nidec's current main brake motor is brush motors for electronic stability control (ESC). – Nidec is developing a semi-by-wire brushless motor for EPS, which is an intermediate control between mechanical and electric. Production is scheduled to start around 2020.
Alliances related to electric vehicles
・In May 2018, through a subsidiary (Nidec Leroy-Somer), Nidec established a joint venture (Nidec PSA emotors) to develop, manufacture and sell traction motors and inverters with PSA. – E-Axle production is scheduled to start in 2023. – The 50-50 joint venture is capitalized at approximately 220 million euros. ・In April 2019, America's Eaton announced that it would supply high power density inverters Nidec PSA emotors. ・In April 2019, Nidec announced the acquisition of Omron's automotive division. – The acquisition is intended to strengthen development capabilities for motor control ECUs and power supply control. ・In September 2018, Nidec announced a partnership with Belgium's WABCO to develop an electric drivetrain with an electric brake control mechanism for commercial vehicles.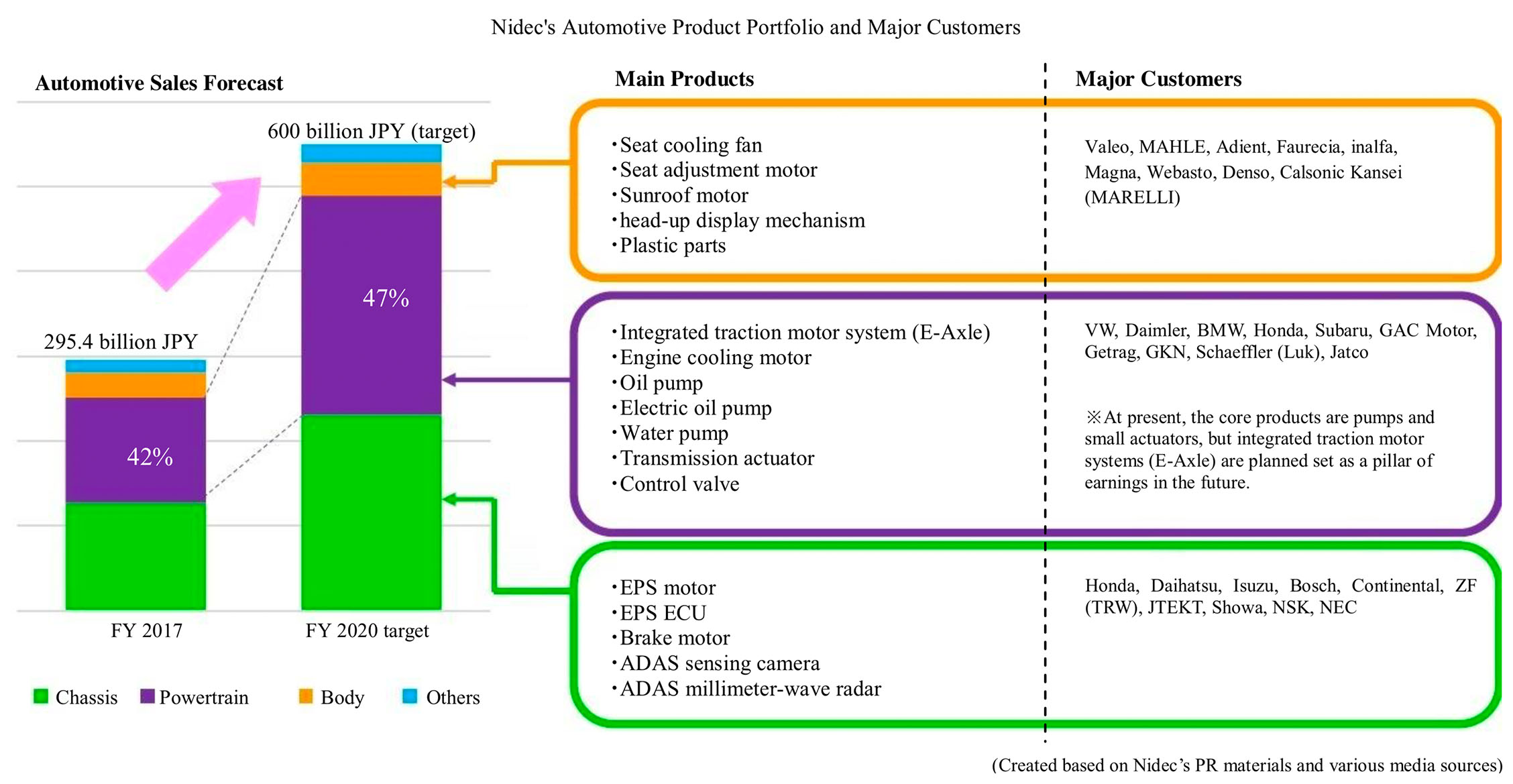 Nidec: Integrated Traction Motor System (E-Axle)
Traction motor development
・Nidec has cultivated know-how in magnetic circuit design in the small precision motor sector such as HDD motors. – Through thorough simulation development using CAE software, Nidec is excelling at developing small motors with high output. ・However, Nidec has yet to develop tractor motors. It plans to start development around 2010. – In 2010, Nidec acquired the motor business unit of America's Emerson Electric. This division manufactured traction motors for commercial vehicles and construction equipment. It was especially strong SR (switched reluctance) motor field that do not require rare earths. The division also possessed numerous patents. – Nidec SR motor prototypes for driving based on Emerson's technology and sold them to automakers and Tier 1 suppliers. However, at that time electrification has not gained momentum yet and there were no orders for mass production. ・Attention to CASE has shifted around 2016 and inquiries for electric axles (E-Axles) that integrate a motor, inverter and gear have expanded. ・Rising demand prompted Nidec to start full-scale development of E-Axle. Nidec itself has developed motors and gears, while Nidec Elesys has developed inverters and Nidec Tosok has been working on overall system integration. In spring 2018, Nidec introduced its first E-Axle.