AAA weekly
2020-07-06
Copyright FOURIN, Inc. 2023
Chinese Automakers Step Up Exports to Emerging Markets, Strengthening Their Presence in Overseas Markets
China's automobile exports decreased 1.6% year-on-year in 2019 to 1.02 million units, of which passenger vehicles dropped 4.3% to 725,000 units, but commercial vehicles increased 5.7% to 299,000 units. The Sino-US trade friction and the decline in exports to Iran due to US economic sanctions on the Middle Eastern nation are thought to be the main causes of the decline. Against the backdrop of the stagnating Chinese automobile market, automakers have been actively introducing products to the global market and set up overseas assembly and production bases in recent years. Automakers in China are aiming to strengthen their business foundations and profitability by expanding overseas.
Looking at automobile exports by manufacturer, SAIC Group increased 19.7% to 285,000 units, remaining the largest exporter in China for the fourth consecutive year. In recent years, SAIC Group has increased its overseas expansion with a focus on Thailand, Indonesia and India. After launching production bases in Thailand in 2014 and in Indonesia in 2017, SAIC Group began local production in India as well in May 2019. The product lineup of the Indian plant is planned to be increased to three models by 2021. SAIC Group has adopted a product strategy of selling the same product under different brands and model names, and is accelerating overseas expansion by utilizing existing resources.
Chery Automobile, ranked second in 2019, dropped 21.8% to 96,000 units. Despite the significant decline, Chery remained China's top passenger vehicle exporter for the 17th consecutive year. Chery's core markets are Brazil, Iran and Argentina. In an effort to further expand overseas sales, Chery signed a partnership agreement with American car dealer HAAH Automotive Holdings in February 2020. HAAH will sell Chery's products through local dealers in the US and Canada.
Dongfeng Motor went up 15.9% to 86,000 units, taking third place in 2019 by surpassing BAIC Group and Jianghuai Automobile. In order to reach its export target of 150,000 units set for 2020, Dongfeng Motor is aiming to improve its brand power and upgrade its customer service by exhibiting at various auto shows and opening 4S stores in addition to launching new products.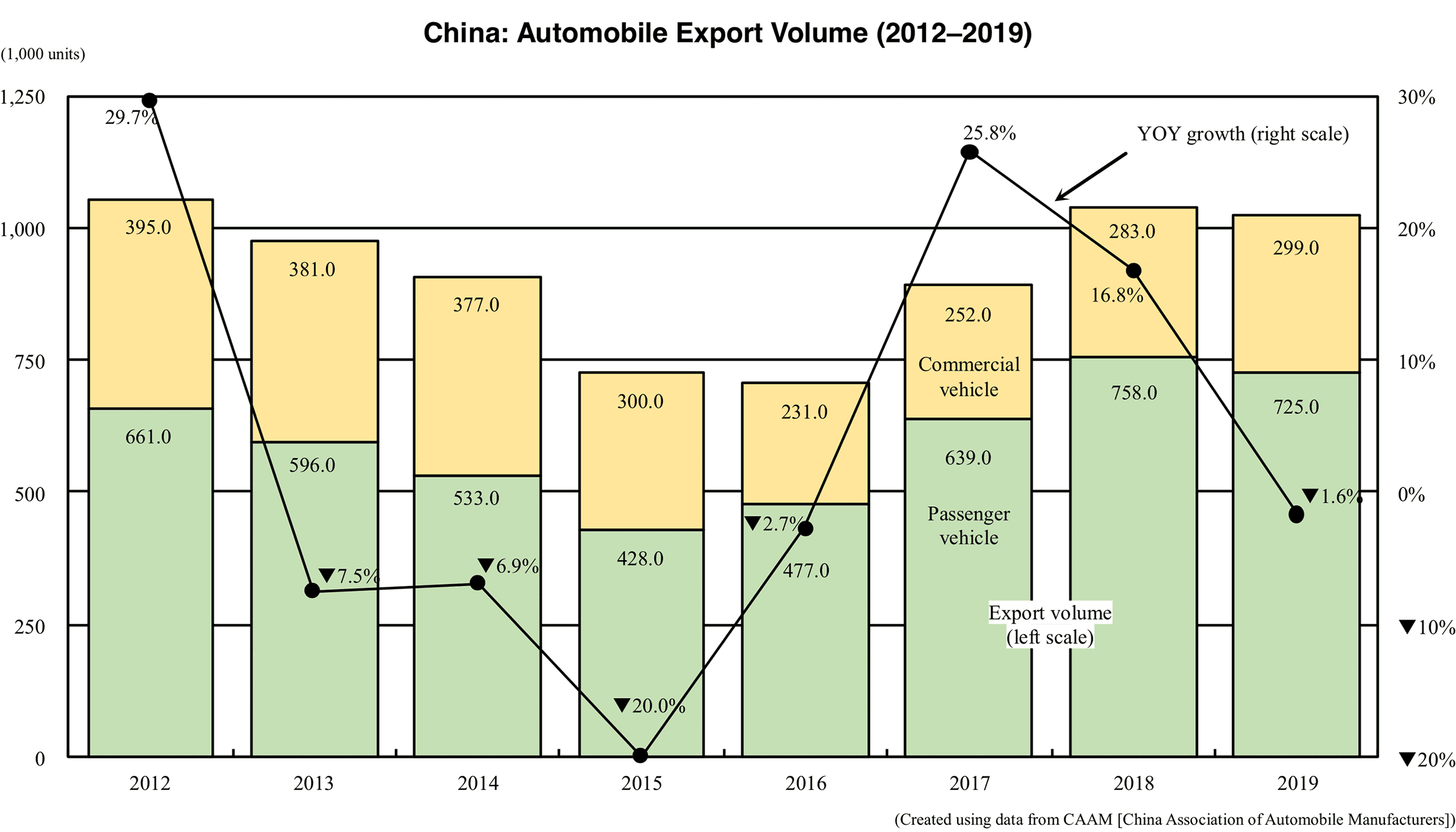 As for the rest of the top 10 exporters, Great Wall Motor increased 38.9% to 65,000 units, ascending from 8th position to 6th, and Chery Automobile skyrocketed 2.1-fold to 58,000 units, entering the top 10 by capturing 7th place. Great Wall Motor has been actively promoting overseas expansion in recent years In June 2019, Great Wall became the first Chinese manufacturer to launch a full-scale manufacturing plant overseas. Located in Russia the plant carries out vehicle body production, welding, coating and final assembly with an annual production capacity of 150,000 units. In addition, Great Wall acquired GM's Indian plant in January 2020 and the US automaker's Thai factory in the following month, indicating Great Wall's strong interest in overseas expansion with an eye on India which has great growth potential and Thailand which is the center of the ASEAN market. Looking at the automaker's product strategy, in addition to deploying its economy SUV brand Haval, Great Wall is positioning its premium SUV brand Wey as a global product. The Wey brand is planned to enter the European market in 2021 and the North American market in 2023.
As for the overall overseas business activities of Chinese automobile manufacturers, although exports in recent years have been on the rise, they are still comparatively low. In addition, their product competitiveness and profit margins are still inferior compared to European, US and Japanese companies. Major export destinations are along trade routes created by China's Belt and Road Initiative. For Chinese automakers, improving technological capabilities and brand power is the key to strengthening their competitiveness. In addition, securing resale value and expanding service systems will be essential for continued business expansion in the future.